Oscar-winner Kim Basinger will participate in a Q&A at the 7:30pm, May 9th screening of L.A. CONFIDENTIAL at the Ahrya Fine Arts in Beverly Hills. Presented in 35mm.
Click here to purchase tickets.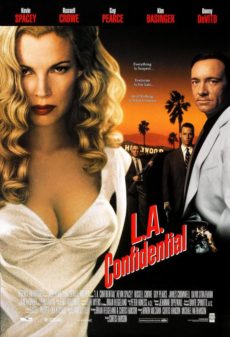 Laemmle Theatres and the Anniversary Classics Series present a tribute to Oscar-winning writer-director Curtis Hanson with a 20th anniversary screening of his film noir masterpiece, L.A. Confidential.
Based on James Ellroy's acclaimed novel, the film focuses on Los Angeles police officers in the 1950s, whose investigations of several murders intersect with the worlds of Hollywood celebrities, scandal sheets, and organized crime.
The startling critique of police brutality and corruption remains timely and hard-hitting. Ellroy himself praised the screenwriters, saying that Hanson and Helgeland "preserved the basic integrity of the book and its main theme."
In addition to its potent social commentary, the film represented a remarkable evocation of time and place, with major contributions by cinematographer Dante Spinotti, art director Jeannine Oppewall, and composer Jerry Goldsmith, all Oscar-nominated for their work.
Hanson, a classic film enthusiast as well as filmmaker, screened several films made in the 1950s for the cast and crew in order to encourage their dedication to authenticity.
The award-winning cast includes Russell Crowe, Guy Pearce, Kevin Spacey, James Cromwell, Danny DeVito, and Simon Baker.
L.A. Confidential has a 99 per cent positive score on Rotten Tomatoes. Roger Ebert called it "seductive and beautiful, cynical and twisted, and one of the best films of the year."
Time's Richard Schickel paid tribute to the film's style: "It's a movie of shadows and half lights, the best approximation of the old black-and-white noir look anyone has yet managed on color stock."
The film was named best picture of 1997 by the Los Angeles Film Critics Association, the New York Film Critics Circle, the National Society of Film Critics, and the National Board of Review—one of only three films in history to win the top award from all four major critics' groups. The film was selected for the National Film Registry in 2015.
Curtis Hanson's many other films as director include The Bedroom Window, The Hand That Rocks the Cradle, The River Wild, Wonder Boys, 8 Mile, and In Her Shoes.
Kim Basinger co-starred in the James Bond movie, Never Say Never Again, and had one of her biggest successes as Vicki Vale in Tim Burton's Batman in 1989. Her many other films include Barry Levinson's The Natural starring Robert Redford, Robert Altman's Fool for Love, the controversial 9 ½ Weeks with Mickey Rourke, Robert Benton's Nadine with Jeff Bridges, the remake of The Getaway, The Door in the Floor, and I Dreamed of Africa. She reunited with Curtis Hanson when she played Eminem's mother in 8 Mile, and she reunited with her L.A. Confidential co-star, Russell Crowe, in Shane Black's The Nice Guys in 2016.