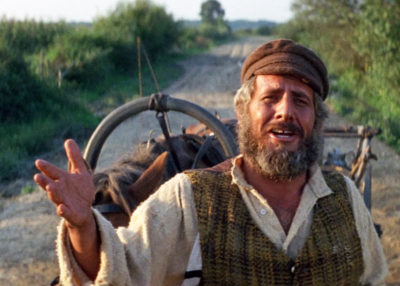 You heard right … it's our 10th year of FIDDLER!  Join us as we celebrate a decade of song, shtick, and shenanigans by once again coming together as a community for Laemmle's legendary Christmas Eve experience.
For 2017, this ever-popular event will be occurring at six of our neighborhood venues including the magnificent single screen, art deco AHRYA FINE ARTS in Beverly Hills (see below for full listing and ticket links).
(Jump down to watch the Sing-A-Long trailer.  For tickets, visit Laemmle.com/Fiddler).
In addition to movie and song, the evening will feature TRIVIA with PRIZES being awarded to Fiddler buffs with the quickest recall.  Dressing in COSTUME is not required, but highly encouraged! Who knows, perhaps the best costume will garner a prize?  Or perhaps this is the year you'll be given an opportunity to do your best Tevye or Golde impression?  That will be up to the emcee.  Indeed, each location will feature its own host, among them some of our favorites from year's past including CANTOR PHIL BARON and klezmer band leader GUSTAVO BULGACH.
As Greg Laemmle is fond of saying "Christmas Eve isn't just Chinese food!"  He elaborates, "This is your once-a-year chance to be the star of the shtetl. Join with friends and neighbors and sing your heart out alongside Fiddler's screen legends. And it's okay if you haven't memorized all the songs. We provide the lyrics."
Song highlights include the iconic "TRADITION", "IF I WERE A RICH MAN",  "TO LIFE", "SUNRISE SUNSET", "DO YOU LOVE ME?" and "ANATEVKA", among many, many more.
Don't be late! Those who wish to attend the program are advised to purchase tickets in advance as the program has traditionally sold to capacity. We welcome all those in the community who are looking for an alternative Christmas Eve.
See you in the shtetl…
DATE: Sunday, December 24th
TIME: 7:30pm
PRICING:
General Admission – $18
Seniors/Children – $15
Premiere Card Adult – $12
Premier Card Seniors – $10
LOCATIONS:
Claremont – Get Tickets
Ahrya Fine Arts – Get Tickets
NoHo – Get Tickets
Playhouse – Get Tickets
Royal – Get Tickets
Town Center – Get Tickets