Laemmle Theatres and the Anniversary Classics Series present a double dose of classic film noir in the popular Twofer program (two features for the price of one) with 75th anniversary screenings of DOUBLE INDEMNITY and LAURA, two of the most lauded films of 1944 and the entire noir canon.
The double feature will screen at two Laemmle locations: Pasadena Playhouse on September 26 and Ahrya Fine Arts in Beverly Hills on September 28.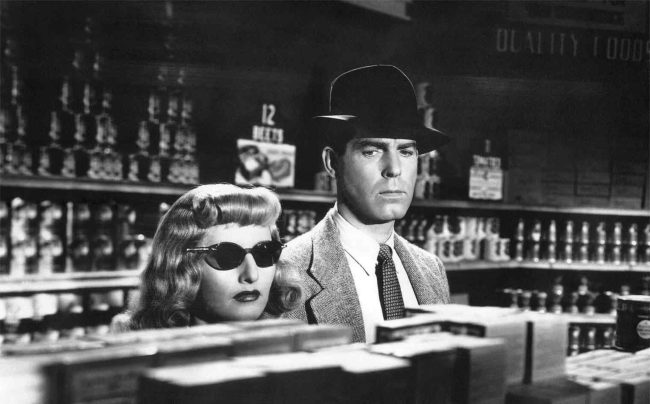 DOUBLE INDEMNITY is writer – director Billy Wilder's film adaptation (with co-scripter Raymond Chandler) of a crime novella by James M. Cain, a tawdry tale of an insurance salesman (Fred MacMurray) and duplicitous dame (Barbara Stanwyck), who scheme to murder Stanwyck's businessman husband for the insurance proceeds. After pulling off the seeming "perfect crime," the lethal lovers come under the scrutiny of MacMurray's claims adjuster colleague (Edward G. Robinson), who smells something rotten in the film's setting, the Hollywood hills.
LAURA is producer-director Otto Preminger's film version of Vera Caspary's novel (adapted for the screen Jay Dratler, Samuel Hoffenstein, Betty Reinhardt, Ring Lardner Jr. and Jerry Cady, the latter two uncredited) about the murder of a beautiful socialite (Gene Tierney) and the spell she cast over three suitors: cynical columnist (Clifton Webb), playboy gigolo (Vincent Price), and necrophiliac detective (Dana Andrews).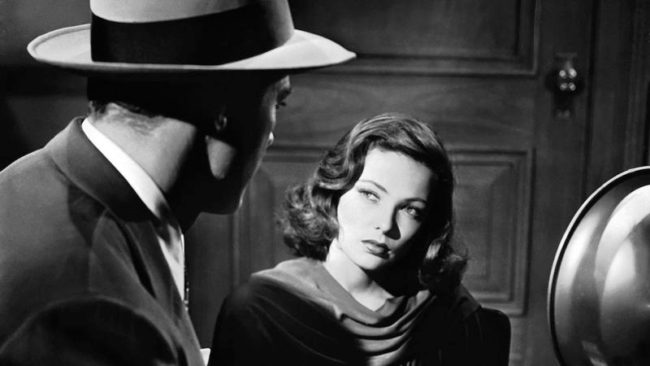 The title character's wealthy aunt (Judith Anderson), who yearns for Price, is also among the suspects. When Tierney, who is more a fascinating female than an archetypical femme fatale, turns up very much alive, the mystery deepens. Set among the sophisticates of Manhattan, Laura is a cosmopolitan counterpart to the middle class denizens and atmosphere of Double Indemnity.
Both films share key film noir elements, including sharp edged black-and-white cinematography (John Seitz, Double Indemnity; Joseph LaShelle, Laura), taut structure, well-crafted dialogue (Raymond Chandler's main contribution to Double Indemnity), and low motives matched with high style. The two films also showcase masterful music (Miklos Rosza's Oscar-nominated Double Indemnity score and David Raskin's memorably haunting Laura).
Among the acting highlights, Clifton Webb's acid-tongued turn in Laura was described wryly as "sophistry personified" by the New York Times, which also praised Dana Andrews as closely matching Webb's incisive performance. Double Indemnity features Barbara Stanwyck's expert take on the noir wicked woman, described by Pauline Kael as "the best acted and the most fixating of all the slutty, cold-blooded femme fatales of the film noir genre." Kael also singled out Edward G. Robinson's "easy mastery" in his sympathetic role.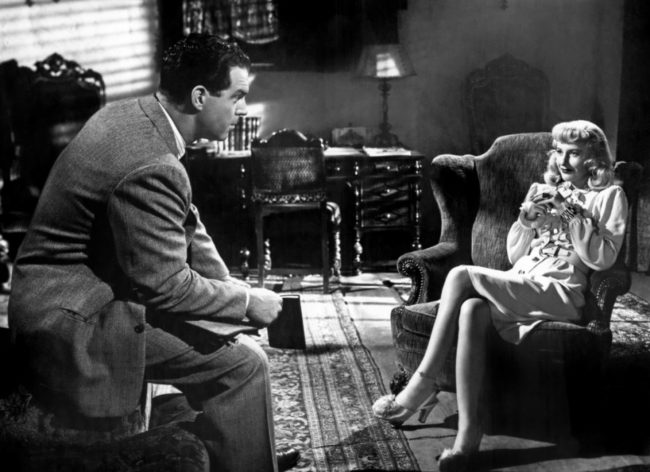 Double Indemnity reaped seven Academy Award nominations, including best picture, director, actress, and screenplay. Laura scored five nods, including director, supporting actor (Webb), and screenplay, winning for LaShelle's black-and white cinematography. Both films were added to the National Film Registry in the Library of Congress.
Laemmle's Anniversary Classics twofer program of Double Indemnity and Laura will screen on separate dates and venues: Thursday, September 26 at the Pasadena Playhouse, and Saturday, September 28 at the Ahrya Fine Arts in Beverly Hills.
On Thursday, September 26th in Pasadena, LAURA screens at 5:15pm and 9:15pm. DOUBLE INDEMNITY screens at 7pm. Click here for tickets to the 5:15pm LAURA with the 7pm DOUBLE INDEMNITY included. Or, click here for tickets to the 7pm DOUBLE INDEMNITY with the 9:15pm LAURA included.
On Saturday, September 28th in Beverly Hills, DOUBLE INDEMNITY screens at 7:15pm with the 9:15pm LAURA with included. Click here for tickets.
Format: DCP.