The propulsive Jewish folk music known as klezmer that was played by itinerant bands throughout Eastern Europe before World War II has earned many sobriquets, among them "Jewish jazz." The pumping rhythms, modal harmonies and cantorial cry of this European roots music have filtered into countless Broadway musicals. Probably no one did more to perpetuate klezmer traditions, especially in Europe, than Leopold Kozlowski, the subject of Yale Strom's absorbing 1994 documentary The Last Klezmer. Strom will participate in a Q&A and play his violin following a 1:00 pm screening on Sunday, November 3rd at the Fine Arts in Beverly Hills.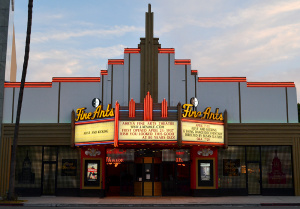 In other Fine Arts news, on November 1 Laemmle Theatres will cease operation of the theater, turning the facility over to Screening Services Group. SSG will return the theater to its longtime name, the Fine Arts Theatre. Laemmle operated the Fine Arts from 1985 to 1994 and again from September 2015 until now. Laemmle Theatres President Greg Laemmle said, "It has been our privilege to show movies at this beautiful single-screen theater and we're happy that Screening Services Group will continue to maintain it as a destination for Los Angeles cinephiles."
According to CinemaTreasures.org, the Fine Arts first opened in April 1937 as the Wilshire Regina, with seating for 800.
Longtime Beverly Hill resident Shawn Far purchased the theater in May of 2015. He has a great respect for historical buildings and owns several in the Los Angeles area. The theater was closed from 2010 to 2015 and once Mr. Far purchased it he began renovations using a state-of-the-art Digital Cinema system including a fully equipped 3D system as well as 35mm and 70mm projectors.
Screening Services Group is an excellent screening room operator in the Los Angeles area, operating three screening rooms in Beverly Hills and one in West LA. The Fine Arts Theatre will be operated as a public movie theatre and a special venue for movie premieres and other special events.
The theatre will host Israel Film Festival next month, and tickets will still be available on the Laemmle website once the schedule is finalized.  We hope to continue working with SSG on Sing-Along Fiddler on the Roof  Christmas Eve screenings (2019 host TBA) and other programs into 2020. Onward!