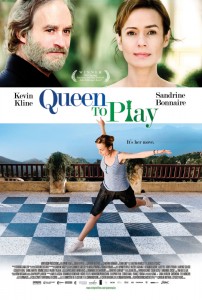 Occasionally — about once or twice a year — Laemmle Theatres owner Bob Laemmle likes to put a personal stamp of approval on one of the many movies we show. Here is his latest:
I would like to offer a recommendation for the French film QUEEN TO PLAY. When I first saw this film two years ago, both my wife and I found it to be a deeply enjoyable film. It has taken two years for the film to finally reach our screens due to the fact that the initial distributor went bankrupt. QUEEN TO PLAY stars Sandrine Bonnaire, who first became a star at age 18 in Agnès Varda's 1985 film VAGABOND. Her co-star is Kevin Kline in a superb French-speaking performance. It is all that you could hope a French film would offer you. It is as well a heartwarming female-empowerment story. It will not have a large advertising budget so if you see and enjoy this film please pass along your recommendations to your friends.
http://youtu.be/Ek0VgLzZpjU
For more information on QUEEN TO PLAY, visit the film's page, here.