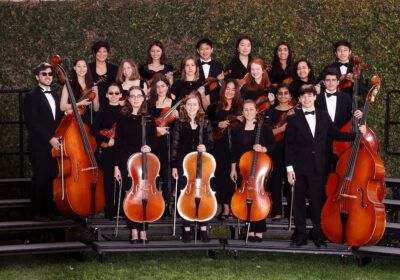 CANCELLED: We regret to inform you that this Sunday's Laemmle Live concert featuring Samohi Chamber Orchestra has been cancelled. This is in line with the school's decision to cancel other large public gatherings. We appreciate your understanding of the situation.
LAEMMLE LIVE proudly welcomes back our hometown band – Samohi Chamber Orchestra. Orchestra Directors are Joni Swenson and Jason Aiello. Santa Monica High School, fondly referred to as Samohi, is a large urban public high school.  Founded in 1891, Samohi has an enrollment of 3,000 diverse students and is situated on a twenty-six acre campus just a short walk from the Pacific Ocean. 
The Santa Monica Orchestra was founded in 1903, making 2020 its 117th anniversary.  During this time, the program has grown to include seven orchestras at Samohi. The Santa Monica High School Chamber Orchestra is comprised of twenty-two talented and dedicated young musicians who are leaders in the Samohi Symphony Orchestra.  In past years, the Santa Monica High School Chamber Orchestra has performed in Carnegie Hall in 2009, at the American String Teachers Association National Orchestra Festival in Kansas City, Kansas in 2011; at the Northwest Orchestra Festival in Portland, Oregon in 2013 and in 2017, and in Vancouver, British Columbia in 2015.  Last year, the Samohi Chamber Orchestra performed in New York City at the National Orchestra Cup Festival held at Alice Tully Hall in Lincoln Center where they received the best string ensemble in the festival.  The Chamber Orchestra is delighted for its fourth performance in the Laemmle Live Concert Series. 
1st Violin
Rubani Chugh
Kielor Tung
Gina Kim
Ryan Lee
Sarah Michlin
2nd Violin
Anouk Jouffret
Emily Taylor
Chloe Schwartz
Isabella Miele-Okada
Lily Rafat
Janet Yang
Viola
Layla Shapouri
Dyllan Zhou
Grace McFalls
Naomi Villafana
Cello
Kaya Ralls
Lily Stern
Giulia Trevellin
Shoshanah Israilevich
Bass
Weston Kerekes
Alec Raymond
Silas Garcia-George
Samohi Orchestra Parents Association
Ann Raziel, President
Santa Monica High School
Dr. Antonio Shelton, Principal
Santa Monica Malibu Unified School District
Sunday, March 15, 2020
11:00 AM
Monica Film Center
1332 Second Street
Santa Monica