Laemmle Theatres and the Anniversary Classics Series present screenings of the raucous comedy, THE MAD ADVENTURES OF RABBI JACOB, on the 45th anniversary of its US release as part of the popular monthly Abroad program. The French farce, directed by Gerard Oury, will screen April 17 at three Laemmle venues: Royal, Town Center, and Playhouse.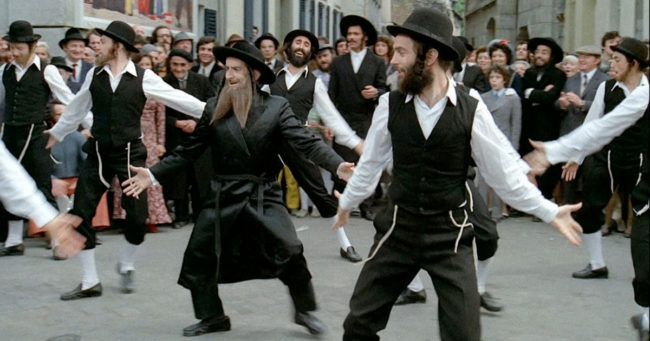 This madcap movie draws upon time-honored comedy tropes of frantic disguises and mistaken identities. The story, written by Oury, Daniele Thomsom, Josy Eisenberg, and Roberto de Leonardis, involves the return of beloved Rabbi Jacob (Marcel Dalio) from the United States after thirty years to his hometown in France. He is waylaid at the Paris airport by a bigoted French businessman, Victor Pivert (Louis de Funes) and an Arab rebel leader fleeing the police and assassins. Pivert and the Arab then impersonate Rabbi Jacob and his companion in their escape. Other characters, including Pivert's daughter (Miou-Miou), jealous wife , and Jewish driver, join the pursuit in a hodgepodge of plot twists and slapstick shenanigans culminating in a chaotic, fun climax.
The movie is a showcase for Louis de Funes, a popular French comic actor of the era, who topped French moviegoing polls several times in the 60s and 70s. With his high-energy acting style and wide range of facial expressions and tics, he was known in Europe as "the man with forty faces per minute," but remains relatively unknown to American audiences. Filmmaker Gerard Oury, who had a long career in France, co-wrote a film there in 1958 that Barbra Streisand later adapted as the basis for her 1996 movie, The Mirror Has Two Faces.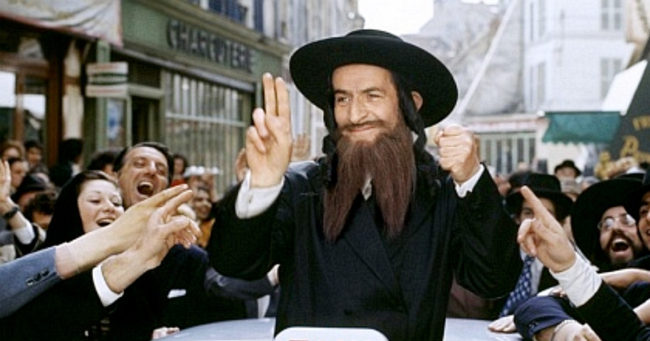 Leonard Maltin found THE MAD ADVENTURES OF RABBI JACOB to be "Often quite funny, with echoes of silent-screen humor." The National Board of Review proclaimed it, "The funniest picture of the year," with kudos to Louis de Funes as "in a class with Woody Allen. The best slapstick in years." The Hollywood Foreign Press endorsed the acclaim with a Golden Globe nomination that year for Best Foreign Film.
THE MAD ADVENTURES OF RABBI JACOB screens on Wednesday, April 17 at 7pm in Encino, Pasadena, and West LA. Click here for tickets.