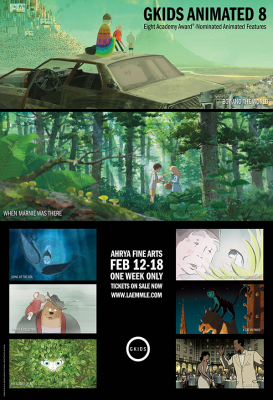 We are pleased to present the GKIDS ANIMATED 8 series at our Ahrya Fine Arts Theater in Beverly Hills. From February 12th through the 18th, we will screen eight Academy Award-Nominated animated feature films including two of this year's nominees, BOY AND THE WORLD and WHEN MARNIE WAS THERE. Rounding out the eight are THE SECRET OF KELLS, SONG OF THE SEA, THE TALE OF PRINCESS KAGUYA, ERNEST & CELESTINE, A CAT IN PARIS, and CHICO & RITA. Click here to see the full schedule and to purchase tickets.
Thanks to our friends at GKIDS, we're giving away TWO amazing prize packages sure to excite any fan of animated film. Earn contest entries by completing the tasks below. The more tasks you complete, the more chances you have to win!
'GKIDS Animated 8' Blu-ray Set and Collectibles Giveaway

PRIZES:
One Runner up will receive a GKIDS MOVIE PACK which includes BluRay/DVDs of The Secret of Kells, A Cat in Paris, Chico & Rita, Ernest & Celestine, Song of the Sea, The Tale of Princess Kaguya, and When Marnie Was There.
One Grand prize winner will receive the GKIDS SUPER-FAN PACK which includes the GKIDS MOVIE PACK plus:
Limited Edition Song of the Sea Print signed by director Tomm Moore
Song of the Sea T-Shirt
The Tale of Princess Kaguya Folder
The Tale of Princess Kaguya Bamboo Keychain
When Marnie Was There Notebook & Pencils
When Marnie Was There Necklace
When Marnie Was There/The Tale of Princess Kaguya Postcards
Ernest & Celestine Sticker Sheets
Ernest & Celestine Coloring Book
Ernest & Celestine Temporary Tattoos
Best of luck and enjoy!