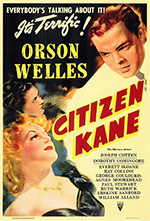 Here's you chance to travel back in time to see classic films in vintage movie palaces courtesy of our friends at Last Remaining Seats.
You can win tickets to a special screening of WEST SIDE STORY at the DOROTHY CHANDLER PAVILION with special guest GEORGE CHAKIRIS (dancer, singer, and Academy Award-wining actor) in conversation with dance critic DEBRA LEVINE. Enter to win tickets for Saturday, June 14 screening here.
You can also enter to win tickets to the Saturday, June 28 screening of CITIZEN KANE at the ORPHEUM THEATRE. The evening will be hosted by BEN MANKIEWICZ, weekend host of Turner Classic Movies and features pre-show organ music by TONY WILSON. Enter here.
Last Remaining Seats is the Los Angeles Conservancy's annual program that combines classic film with L.A.'s historic theatres. Visit the L.A. Conservancy's website for this year's full schedule of screenings.