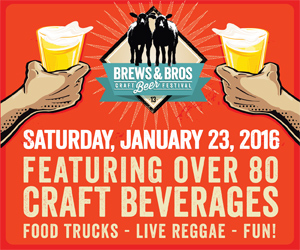 Our friends at the BREWS & BROS Draft Beer Festival are offering Laemmle customers a chance to win VIP tickets to Dale Bros. Brewery's 13th Anniversary celebration. Proceeds from the festival benefit the Claremont Educational Foundation!
BREWS & BROS Draft Beer Festival takes place from 1PM to 5PM Saturday, 1/23 at the Cable Airport on 1749 West 13th Street in Upland.
Features:
– 80+ Craft Beers
– Cider, Wine + Craft Soda
– Gourmet Food
– Live Music
– "BicyclePalooza"
The pair of VIP TICKETS gets you in an HOUR EARLIER (12pm) so you can avoid lines and sample rare beers that won't be available to the general public (after 1pm).
The pair of VIP TICKETS is worth $120 and includes:
– Unlimited Pours and Keepsake Glass
– Bottle Opener
– Free Preferred Parking
– Rare Beer Hour from 12pm-1pm
Also:
– VISIT THE LAEMMLE BOOTH. Say hi and get some free popcorn!
– Kids under 12 are free
– Food must be purchased separately (not included with ticket)
The winner will be selected at random on Friday at 2PM and will receive tickets via email. Good Luck!
CONTEST IS CLOSED