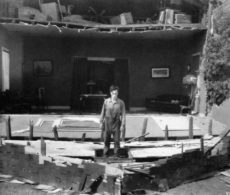 Each year, our friends at the Los Angeles Conservancy screen classic films in L.A.'s historic theatres at their Last Remaining Seats series. Enter our drawing to win a pair of VIP tickets to their screening of Steamboat Bill, Jr. at the Orpheum Theatre! Enter below!
Buster Keaton stars in this 1928 silent as William "Steamboat Bill" Canfield, the owner of a paddle steamer who hopes to teach his son the family trade. The son, however, falls in love with the daughter of Steamboat Bill's biggest rival, much to Bill's dismay.
Will this father and son be able to sort out their differences before a hurricane destroys Bill's steamboat?
This entertaining slapstick comedy features one of Keaton's most famous stunts: the entire front side of a house falls on top of him, but he is untouched due to standing in the perfect spot to pass through an open upper floor window.
Live accompaniment on the Orpheum's Mighty Wurlitzer organ.
Before the screening enjoy live entertainment from Janet Klein & Her Parlor Boys. On stage before the screening: Keaton Talmadge, great-granddaughter of Buster Keaton will introduce the film. A free Q&A session about the theatre will follow the screening. Stay in your seat to learn more about the history and architecture!

Last Remaining Seats: Buster Keaton in STEAMBOAT BILL, JR. Drawing