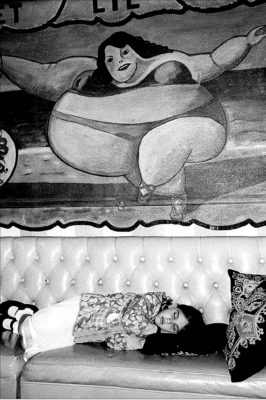 Art in the Arthouse presents a fascinating exploration of local cityscapes and nearby landscapes in our latest art show in North Hollywood. Don't miss photographer Gerard Burkhart's exhibit NOHO & SHIMMERING SKY, now extended through 2020. All of the art is for sale and a portion of the proceeds benefits the Laemmle Foundation and its support of humanitarian and environmental causes in Los Angeles.
About the Exhibit
As a NoHo resident from 1999 to 2001, Photographer Gerard Burkhart viewed his neighborhood as his own personal Cuba – an island in the vast sea of Los Angeles untouched by a larger outside world, waiting to be opened. Years later, Burkhart produced Shimmering Sky as an artist-in-residence for the Mojave National Preserve Foundation, living in a canvas bell tent at Hole in the Wall Campground. Despite a government shutdown and the 2018 drought, Burkhart explored the soul nurturing inventiveness that desert isolation encourages.
States the artist, "Arguably, visual art is an indulgence of perception. We can use our interior landscape of experience to filter and decode the world we inhabit. As a photojournalist, it is a prism that sees the outside world with a critical eye for accurate and fair storytelling images. As an artist, it is a fertile realm rich with the possibilities of creation. The NoHo and Shimmering Sky projects represent a 20-year development crossing back and forth through both those territories.  The North Hollywood Neighborhood Project was made with a keen eye toward community engagement with a pure photojournalistic ethic. Shimmering Sky was a near-transcendent journey struggling with the constraints and celebrations of photography's realism. Spiritually, they both contain the same DNA."
Burkhart's photos have been published in Newsweek, U.S. News and World Report, USA Today, the Washington Post, the New York Times and internationally through the Associated Press. He worked at the Los Angeles Times for six years where his photos were included in three collaborative Pulitzer Prize winning editions.
– Sheryl Myerson, curator