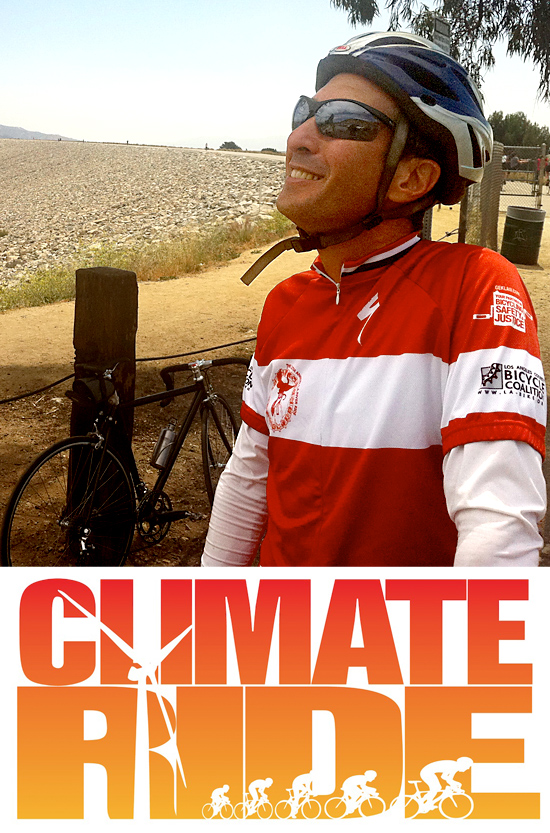 It's time for our 3rd Annual Ride with Greg Laemmle Climate Ride Contest!  Don't miss your chance to participate in this life-altering event.  Last year our team was 14 strong and we're expecting to surpass that number for 2015.  Join us and become part of our amazing group!
What's more, tell us why you want to ride with Greg and you could win an Unlimited Laemmle Movie Pass for the remainder of 2015, free registration for Climate Ride California, and a $2500 contribution toward your Climate Ride fundraising goal from the Laemmle Charitable Foundation.  See the second and third prize packages, eligibility requirements, and all contest details over on the contest entry page.
An outside panel of judges will select the winners based on the quality of their entry statement so take the time to craft something that'll really knock their cycling socks off! But don't wait too long, the deadline for entry is Monday, February 16!
Climate Ride California 2015 is a fully-supported, five-day group ride covering approx. 300 miles of stellar Northern California scenery starting with the awe-inspiring Redwood State Park,  down miles of spectacular coastline, through California wine growing country, and culminating with a jaunt over the Golden Gate Bridge and into the City By the Bay.  Bike fitness is recommended, but the ride caters to all levels of ability.