THE LOST LEONARDO is the inside story behind the Salvator Mundi, the most expensive painting ever sold at $450 million. From the moment the painting is bought for $1175 at a shady New Orleans auction house, and the restorer discovers masterful Renaissance brush strokes under the heavy varnish of its cheap restoration, the Salvator Mundi's fate is determined by an insatiable quest for fame, money and power. As its price soars, so do questions about its authenticity: is this painting really by Leonardo da Vinci?
Unravelling the hidden agendas of the richest men and most powerful art institutions in the world, THE LOST LEONARDO reveals how vested interests in the Salvator Mundi are of such tremendous power that truth becomes secondary.
Now playing at our Encino and Pasadena theaters, this Friday we are expanding this fabulous documentary to our Claremont, Glendale, Santa Monica, Newhall, and North Hollywood venues as well.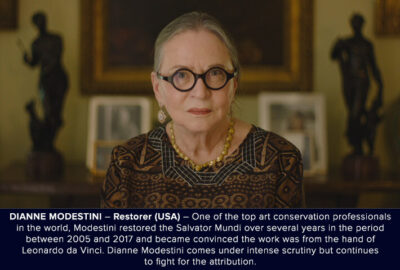 DIRECTOR'S NOTES by Andreas Koefoed:
This is a film about the incredible journey of a painting, the Salvator Mundi, the Saviour of the World, possibly by Leonardo da Vinci. It is a true story, yet a fairytale worthy of H.C. Andersen: A damaged painting, neglected for centuries, is fortuitously rediscovered and soon after praised as a long-lost masterpiece of divine beauty. At its peak in the spotlight, it is decried as a fake, but what is revealed most of all is that the world around it is fake, driven by cynical powers and money.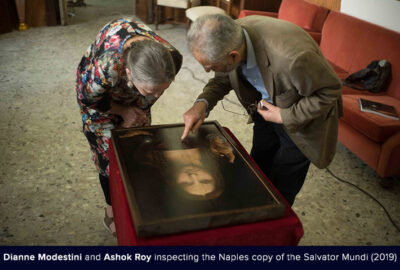 The story lays bare the mechanisms of the human psyche, our longing for the divine, and our post-factual capitalist societies in which money and power override the truth. The painting becomes a prism through which we can understand ourselves and the world we live in. To this day there is no conclusive proof that the painting is – or is not – a da Vinci and as long as there is a doubt, people, institutions, and states can use it for the purpose that serves them the most.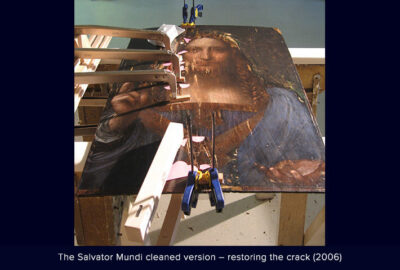 Making this film has been a huge team effort. The producers, writers, editor, and DOP have worked side-by-side and devoted so much of themselves to the project. For that I am deeply grateful. It has been a fantastic voyage into secret worlds that are otherwise entirely inaccessible. Worlds in which anything can be bought and sold, where prestige, power, and money play out beneath the beautiful surface of the art world.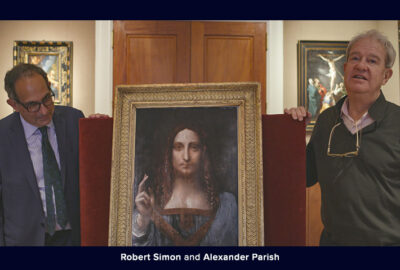 The main character is the painting. Brooding over it is its restorer, Dianne Modestini, who began working on it just after losing her husband, Mario, a world-famous restorer himself. For Modestini the restoration becomes a symbiotic process of mourning in which the painting and Mario at times become one. After she lets go of the painting, it is locked away in a freeport somewhere, leaving Dianne feeling alone, and criticized for her work. Did her restoration go as far as to transform a damaged painting into a Leonardo? She is forced to defend herself and her integrity, and seek closure on the painting and her grief.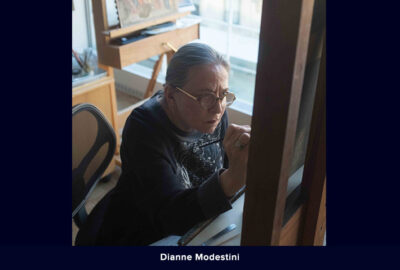 What fascinates — and disillusions — me is that art is being used for economic speculation and as a token in political games. Art is a beautiful manifestation of human feelings and expressions throughout history. In my view, art belongs to humanity. Instead of being publicly accessible, it is hidden away in freeports and used for cynical and speculative purposes.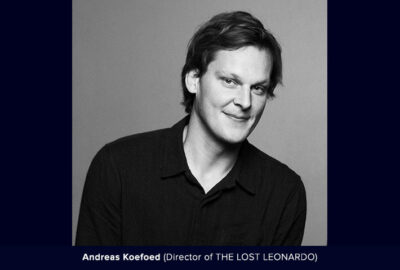 None of the prominent institutions involved in the story – The National Gallery, Christie's, the Louvre, or states of France and Saudi Arabia – wanted to talk, perhaps unsurprisingly. The supposedly independent scientific and scholarly approach to the painting is under enormous political pressure. In the end, not only the painting is lost, but also the truth itself. The painting, a product of the very Renaissance that valued freedom of science and art, ultimately becomes a victim of vested interests and power games. As Jerry Saltz says in the film, the story is "a telling fable of our time."
I hope the film will engage, surprise and intrigue the viewers who themselves become detectives in the story, leaving them with a question: What do I believe to be the truth?"