Laemmle Theatres and the Culture Vulture series present GOING ATTRACTIONS: The Definitive Story of the Movie Palace, a tribute to the spectacular monuments created as temples for the enjoyment of movies.
The film's L.A. run kicks off Thursday, October 24 with the world theatrical premiere at the historic Ahrya Fine Arts, followed by a discussion with filmmaker April Wright and subject Escott O. Norton, executive director of the Los Angeles Historic Theatre Foundation. Several of the film's other subjects will be in attendance as well!
Other countries built palaces for royalty. In the United States, we built them to watch movies.
Following the premiere, GOING ATTRACTIONS will play for a week, from October 25-31, at the Music Hall (showtimes here), and Monday, October 28 & Tuesday, October 29 at four additional Laemmle theatres — the Claremont, Playhouse, Royal and Town Center — as part of the Culture Vulture series (see list of shows and ticketing links below).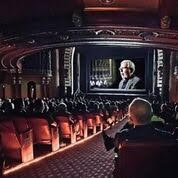 GOING ATTRACTIONS captures the splendor and grandeur of the great historic cinemas of the U.S., built when movies were the acme of entertainment and the stories were larger than life, as were the venues designed to show them: Giant screens, thousands of seats, ornate interiors, amazing marquees, in-house organs and orchestras, and air conditioning back when peoples' homes had none. The film also tracks the eventual decline of the palaces, through to today's current preservation efforts — with a special focus on Los Angeles, which enjoys two separate historic theater districts (downtown and Hollywood).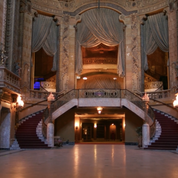 "I feel passionately about both the text — these beautiful structures —  and the subtext of GOING ATTRACTIONS, how we have changed so much in the past 50 years as a people in how we spend our time, socialize and experience entertainment," director April Wright said. "Our content is personalized now, at our fingertips — but I fear we are losing something important by not having the local, communal experiences we used to have with our friends, families and fellow movie-going audiences."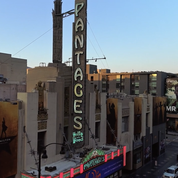 "Awesome and Wonderful!" — TC Kirkham, ECinemaOne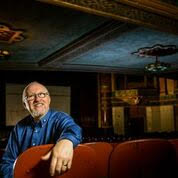 Culture Vulture screenings:
Speakers after three of the Culture Vulture screenings:
Mon., Oct. 28 7:30 pm at the Playhouse: David Saffer, LAHTF board member, and Ross Melnick, film historian, UCSB professor
Mon., Oct. 28 7:30 pm at the Royal: Mike Hume, LAHTF board member and filmmaker April Wright
Tue., Oct. 29 1 pm at the Town Center: filmmaker April Wright