An Evening with Shirley MacLaine and 40th Anniversary Screening of THE TURNING POINT (1977) on Wednesday, January 11, at Laemmle's Music Hall at 7 PM. Click here to buy tickets now.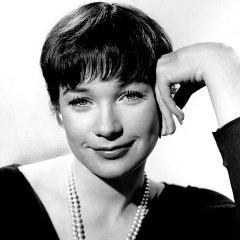 On January 14 the Los Angeles Film Critics Association will present its Career Achievement Award to Shirley MacLaine, Oscar-winning star of stage and screen for the last 60 years.
In conjunction with that event, the Anniversary Classics series offers an intimate conversation with MacLaine, along with a 40th anniversary screening of her award-winning film, THE TURNING POINT.
The movie was nominated for 11 Academy Awards in 1977 and won Golden Globes for best drama and best director Herbert Ross. Screenwriter Arthur Laurents won the Writers Guild award for best original screenplay.
Both MacLaine and co-star Anne Bancroft were Oscar-nominated for their performances in the film, and dancers Mikhail Baryshnikov and Leslie Browne also received nominations for their supporting roles.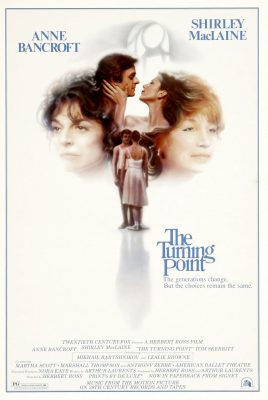 THE TURNING POINT tells the story of two friends who started out together as dancers in a national ballet company (modeled on American Ballet Theatre).
Bancroft's character became a prima ballerina while MacLaine's character chose to give up her career and raise a family. When MacLaine's daughter (played by Browne) launches her own career as a dancer, the two women examine the life choices that they made two decades earlier, and long buried jealousies and resentments come to the surface.
Variety called the movie "one of the best films of its era," and added, "Pic ranks as one of MacLaine's career highlights."
New West magazine agreed that The Turning Point was "among the most emotionally satisfying movies of recent years."
After starting as a dancer on Broadway, Shirley MacLaine made her film debut in Alfred Hitchcock's The Trouble with Harry in 1955.
She earned her first Oscar nomination when she co-starred with Frank Sinatra in Some Came Running in 1958. She earned two more nominations for her performances in Billy Wilder's The Apartment (1960) and Irma La Douce (1963). She won the Oscar in 1983 when she starred in James L. Brooks' Terms of Endearment.
Among her many other films are Around the World in 80 Days, Ocean's Eleven, The Children's Hour, Sweet Charity, Being There, Steel Magnolias, Postcards from the Edge, and more recent turns in Richard Linklater's Bernie with Jack Black and Elsa & Fred with Christopher Plummer.
For more about our Anniversary Classics Series, including an upcoming evening with Alan Alda, visit www.laemmle.com/ac and join our Facebook Group.