ROADRUNNER is the latest from Academy Award®-winning filmmaker Morgan Neville (20 Feet from Stardom, Won't You Be My Neighbor?). It's unflinching look at chef, writer, adventurer, and provocateur Anthony Bourdain and it reverberates with his presence because it's culled from 10,000 hours of raw footage from his TV shows. It's "raw" in that most of it is from outtakes, but also in the sense that Bourdain's technique to help his interview subjects open up was to get very personal with them first.
From Eric Kohn's recent interview with Neville in Indiewire:
Q: How much footage do you estimate you went through?
A: There was anything from 60 – 100 hours of footage per episode. There were 96 episodes of "Parts Unknown." That's just "Parts Unknown." Then there was "No Reservations" and "Cook's Tour." Not all the raw footage exists for those episodes, but it does for certain seasons. Of course, we didn't go through all the footage, that would've taken years and years. We probably went through 10,000 hours. We had six of us all looking at footage, sometimes double-timed, because there was so much to go through. I love archive docs, and this was a unique one because the camera was always there and running. It becomes its own weird, interesting verite thing. It has a behind-the-scenes quality that feels raw, which I wanted to carry over into the telling of it.
Q: How did you narrow down the process?
A: We were going through footage for at least a year. Anytime there was an episode that he talked about or a crew member mentioned, we'd go through those episodes. There were definitely a number of episodes that were easy wins. A lot of the domestic ones. Or whenever Tony was on a beach. You can see that he's in a different gear in those episodes. It's pretty easy to tell early in a scene where Tony is phoning it in or actually wants to learn about a person. Those scenes floated to the top pretty quickly.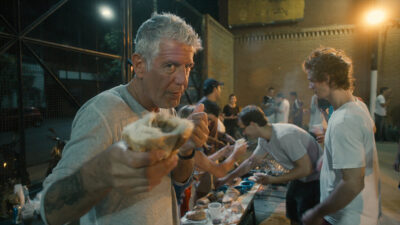 Q: Given how much of his shows were infused with his personality, what surprised you about the way he came across in this additional footage?
A: One of the biggest challenges early on was not to make the film feel like the show. Among the things that really surprised me was that he was fundamentally a shy person. Once you hear that, it makes sense — you can see that in him — but I don't think it's otherwise obvious. He overcame it in a big way, but there was always a part of him that was a little walled off.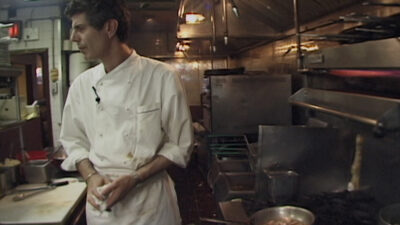 When I was first talking to people who worked on the show, they would say, "Tony had this technique, and we didn't know it was his technique." When he was shooting a scene with someone he didn't know, he would open up about himself in a really raw way. The crew would be sitting there wondering when he'd get to the point of speaking about the subject. Eventually he would, but by speaking about himself, he would get other people comfortable talking about themselves.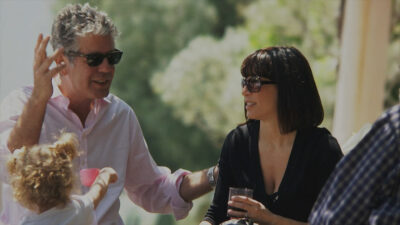 Of course, they cut all that stuff out of the show. But the raw footage has a lot of Tony revealing a lot about himself to people — knowing it was never intended for broadcast. It was part of who he was. I remember talking to David Simon about Tony and he said the first time he met Tony, the first thing he said was, "Oh, you're from Baltimore. I tried to score heroin once there and couldn't." To which Simon replied, "Then you must have been a terrible junkie."
Read Kohn's full piece here.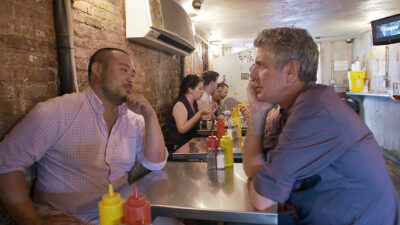 This behind-the-scenes look at how an anonymous chef became a world-renowned cultural icon is enjoying universal acclaim: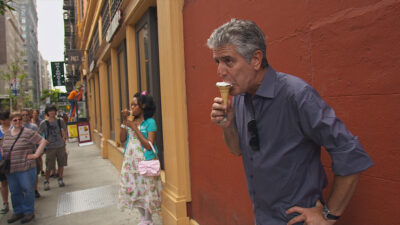 "An intimate and fascinating portrait of the beloved celebrity chef and television globe-trotter. It is also, inevitably, a spiritual investigation into why his life ended." ~
Owen Gleiberman, Variety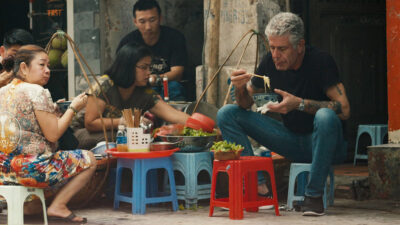 "It does what Bourdain's work did:
ROADRUNNER
makes you want to jump on a plane, discover a new place, a new culture, eat a great meal, and make a new friend. What could be more valuable?" ~
Jason Bailey, The Playlist