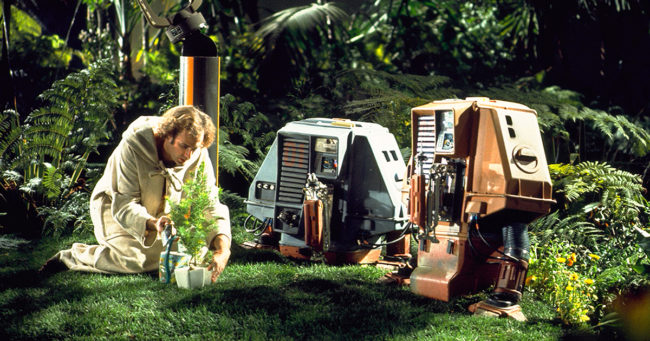 Laemmle Theatres and the Anniversary Classics Series present a 45th anniversary screening of the groundbreaking sci-fi movie, SILENT RUNNING, which marked the directorial debut of special effects wizard Douglas Trumbull. Trumbull and Producer Michael Gruskoff will participate in Q&A after the screening.
SILENT RUNNING screens Wednesday, December 13, at 7:30pm at the Ahrya Fine Arts Theatre in Beverly Hills. Click here for tickets.
Set 100 years in the future, the prophetic script written by Deric Washburn, Michael Cimino, and Steven Bochco stars two-time Oscar nominee Bruce Dern as an astronaut sent into space to preserve the last samples of plant life that are endangered on a dying Earth. His only companions are three drones named Huey, Dewey, and Louie.
The film's ecological message was a daring one for the time, and its relevance has only grown over the subsequent decades.
Trumbull had made special effects films for NASA while he was still in his early twenties, and he was hired by Stanley Kubrick to execute many of the most challenging and innovative visual effects in 2001: A Space Odyssey.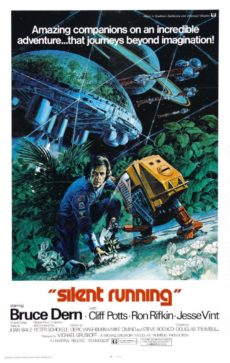 Reviewing Silent Running, Time's Jay Cocks compared it to Kubrick's masterpiece: "Silent Running displays the same kind of technical virtuosity, the same sense of the still, vast symmetry of the galaxies." He added that the movie was "a quite captivating essay on futuristic ecology." Life's Richard Schickel declared that the film "provides a great, near-solo role for Bruce Dern."
In addition to his work on 2001, Trumbull played a major role in creating the special effects for The Andromeda Strain, Close Encounters of the Third Kind, Star Trek: the Motion Picture, Blade Runner, and Terrence Malick's The Tree of Life.
Trumbull directed Natalie Wood's last film, Brainstorm. He is also known as an inventor and technical innovator in many other fields. He has received numerous awards over the years, including three Oscar nominations for his visual effects and The Gordon E. Sawyer Award for scientific and technical achievement from the Academy of Motion Picture Arts and Sciences in 2012.
After working as a highly successful agent during the 1960s, Michael Gruskoff produced his first film, Dennis Hopper's The Last Movie, in 1971. His other films include Mel Brooks' comedy smash, Young Frankenstein, Quest for Fire, and My Favorite Year, which we featured in a highly successful Anniversary screening earlier this year.
Presented digitally.