Laemmle Theatres joins FilmBuff, The Ebersole Hughes Company, and Vintage Los Angeles for the opening night premiere of MANSFIELD 66/67, featuring the directors P. David Ebersole and Todd Hughes with special guests. Scheduled to appear: AJ Benza, Richmond Arquette, Mary Woronov, Donna Loren, Alison Martino and more! October 25 premiere seating is limited and tickets are $20 each.
MANSFIELD 66/67 is about the last two years of movie goddess Jayne Mansfield's life, and the rumor that her untimely death was caused by a curse after her alleged romantic dalliance with Anton LaVey, head of the Church of Satan.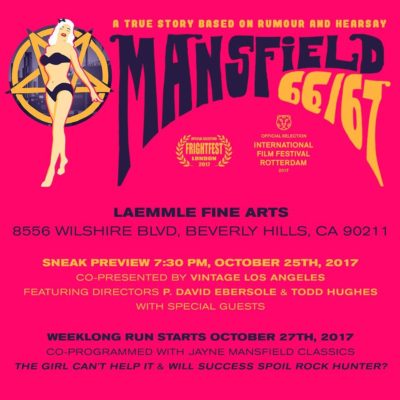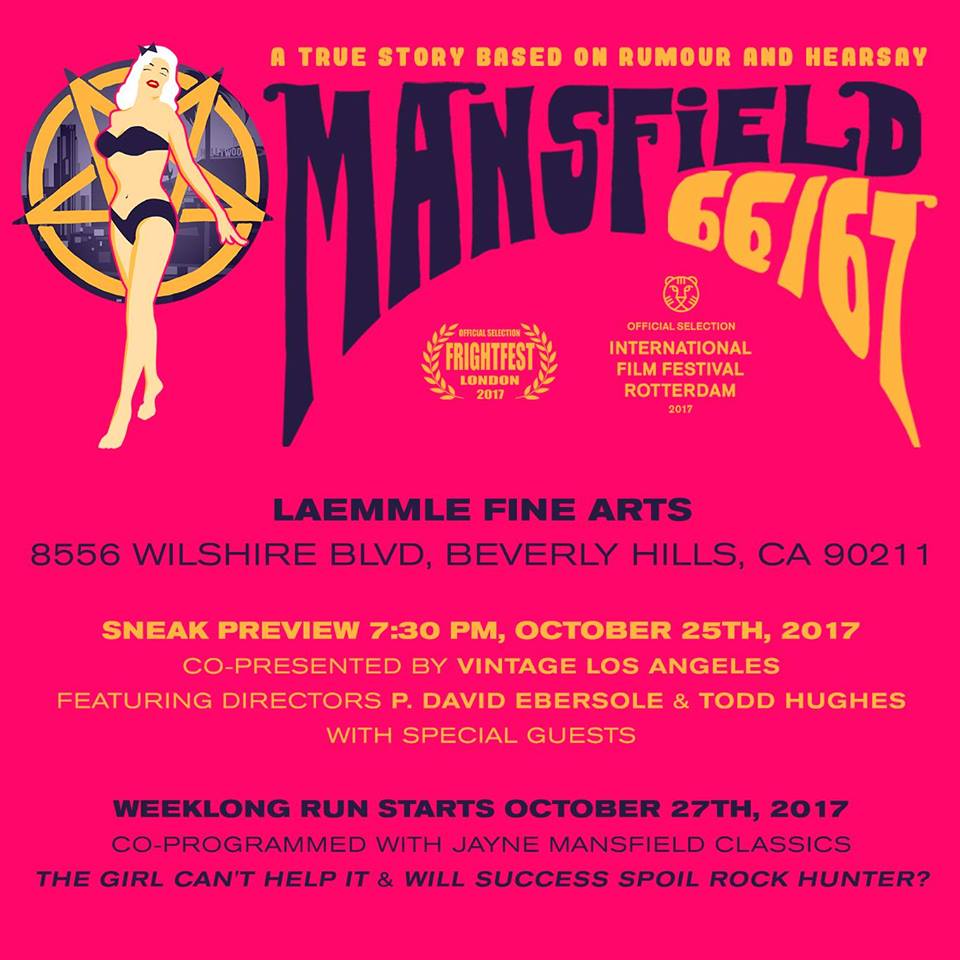 Welcome to MANSFIELD 66/67, a true story based on rumor and hearsay, where classic documentary interviews (including John Waters, Kenneth Anger, Dolly Read, Tippi Hedren, Mamie Van Doren, AJ Benza, Marilyn, Peaches Christ, Mary Woronov, Susan Bernard and more) and archival materials are blended with wild dance numbers, performance art and animation (voiced by Ann Magnuson and Richmond Arquette), elevating a tabloid tale of a fallen Hollywood idol into a celebration of the mythical proportions of a true original we can't help but live to love more each day.
We open the film for a week-long engagement at the Fine Arts on Friday, October 27th and will also screen two Mansfield classics, THE GIRL CAN'T HELP IT from October 27th – 29th and WILL SUCCESS SPOIL ROCK HUNTER? on October 28 and 29.
WEEKEND SCHEDULE AND PRICING:
Friday, October 27th
MANSFIELD 66/67 – 7:30PM  ($13 General, $10 Senior)
THE GIRL CAN'T HELP IT:  9:45PM  ($8 General or $5 with purchase to MANSFIELD 66/67)
Saturday, October 28th
THE GIRL CAN'T HELP IT – 2:45PM  ($8 General, Double feature with SUCCESS)
WILL SUCCESS SPOIL ROCK HUNTER? – 5:00PM  ($8 General)
MANSFIELD 66/67 – 7:30PM  ($13 General, $10 Senior)
WILL SUCCESS SPOIL ROCK HUNTER?  – 9:45PM  ($8 General or  $5 with purchase to MANSFIELD 66/67)
Sunday, October 29th
MANSFIELD 66/67 – 12:30PM  ($10 General, $7 Senior)
THE GIRL CAN'T HELP IT – 2:45PM  ($8 General, Double feature with SUCCESS)
WILL SUCCESS SPOIL ROCK HUNTER? -5:00PM ($8 General)
MANSFIELD 66/67 – 7:30PM  ($13 General, $10 Senior)