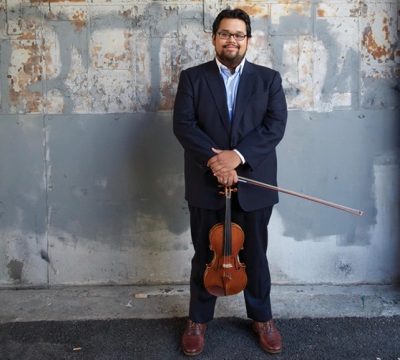 Please join us for a very special event as LAEMMLE LIVE presents STREET SYMPHONY Sunday, April 30, 2017. Vijay Gupta, LA Philharmonic violinist and founder of STREET SYMPHONY will perform with fellow Street Symphony musicians, Jin Shan Dai, violin; Michael Larco, viola; and Dahae Kim, cello.  Their program will include Dvořák: String Quartet #12 "American" and music by Duke Ellington. KUSC Announcer Rich Capparela will host and join Vijay in conversation to raise awareness of the humanity of people experiencing homelessness.  We are honored Street Symphony, a ground-breaking non-profit that connects professional musicians with these communities is bringing this life-affirming program to Santa Monica.
Today, Skid Row is the epicenter of the homeless capital of the United States. Nearly 20,000 people may sleep on the streets of downtown Los Angeles on any given night. Los Angeles County jails are the largest in America, and are effectively the largest in-patient mental health centers in the world. These communities comprise the audiences of Street Symphony.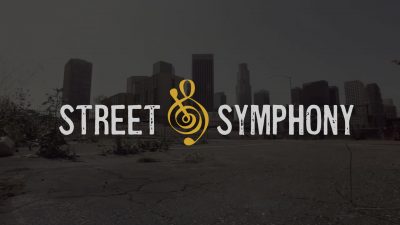 In the course of the last 4 years, the distinguished musicians of Street Symphony have presented nearly 200 free, live musical engagements with the Los Angeles community, presenting events in Skid Row, the greater Los Angeles Area and the LA County Jails. They bring jazz. They bring gypsy music. They bring the works of Schumann, Schubert and Mendelssohn. They bring music to lift up the brave stories and voices of people who, although living in an impoverished situation, are in no way impoverished in spirit.
VIJAY GUPTA is a violinist, speaker, and passionate advocate for the dedicated presence of citizen-artists in social and civic discourse. Gupta joined the Los Angeles Philharmonic in 2007 at the age of 19, after completing an undergraduate degree in biology and a Master's degree in violin performance from the Yale School of Music. Gupta made his solo debut with the Israel Philharmonic Orchestra under the baton of Zubin Mehta at age 11 and has performed on an international scale since the age of 8. 
A gifted spokesperson for the power of arts to change lives, Gupta believes that musical engagement reconnects us to our shared humanity across vast divides, and ultimately impacts social justice. Gupta is a TED Senior Fellow and currently serves on the board of directors of the DC-based national arts advocacy organization Americans for the Arts. In 2015, at the age of 27, he was presented with an honorary Doctor of Humane Letters by the University of La Verne.
Vijay Gupta currently plays a 1731 Domenico Montagnana violin on generous loan through the Los Angeles Philharmonic Association.
RSVP using Eventbrite
This is a Free Event
EVENT DETAILS
Sunday, April 30, 2017
11:00 AM
Monica Film Center