UPDATE! We're pleased to announce our Fiddler Hosts for 2018!  Click here for bios.
(skip to main article)
Music Hall
Michael Schlesinger – NEW! – writer, producer, and classic film expert, appearing on behalf of The Los Angeles Jewish Film Festival – BUY TIX
Ahrya Fine Arts
Robbo – NEW! – singer, songwriter, and song leader, appearing on behalf of Shalom Institute, home of Camp JCA Shalom – BUY TIX
Playhouse
Cantor Aviva Rosenbloom – NEW! – appearing on behalf of the Jewish Federation of the San Gabriel and Pamona Valleys – BUY TIX
Glendale
Elissa Glickman – NEW! – community leader, appearing on behalf of Glendale Arts – BUY TIX
Royal
Aaron Wolf – NEW! – director of Restoring Tomorrow, appearing on behalf of Camp Hes Kramer and Gindling Hilltop Camp – BUY TIX
NoHo 7
Gustavo Bulgach – musician, bandleader of Klezmer Juice – BUY TIX
Monica Film Center
Isaac Wade – NEW! – actor, and Monica Film Center GM – BUY TIX
Claremont 5
Dr. Arthur Benjamin  – NEW! – "mathemagician" appearing on behalf of Temple Beth Israel – BUY TIX
Town Center 5
Stephen Sass (4:30pm) – of the Jewish Historical Society of Southern CA – BUY TIX
Kenny Ellis (7:30pm) – entertainer, comedian, singer of Hanukah Swings! – BUY TIX

Jump below to find out more about our hosts.
—————————————————–

Can you believe it's the 11th year of our Christmas Eve FIDDLER SING-ALONG!?  Join us in coming together as a community to celebrate the song, shtick, and shenanigans of Laemmle's legendary Christmas Eve experience.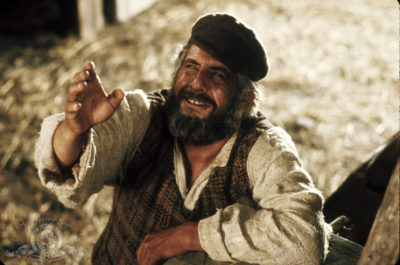 For 2018, this ever-popular event will be occurring at eight of our neighborhood venues including our brand new theater in Glendale and the magnificent single screen, art deco AHRYA FINE ARTS in Beverly Hills (see below for full listing and ticket links).
(Jump down to watch the Sing-A-Long trailer.  For tickets, visit Laemmle.com/Fiddler).
In addition to movie and song, the evening will feature TRIVIA with PRIZES being awarded to Fiddler buffs with the quickest recall.  Dressing in COSTUME is not required, but highly encouraged! Who knows, perhaps the best costume will garner a prize?  Or perhaps this is the year you'll be given an opportunity to do your best Tevye or Golde impression?  That will be up to the emcee.  Indeed, each location will feature its own host (to be announced).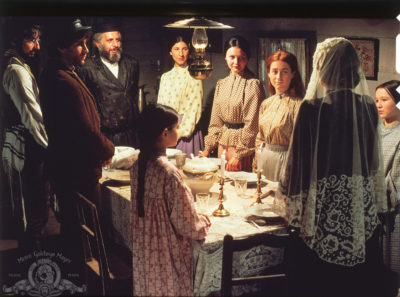 As Greg Laemmle is fond of saying "Christmas Eve isn't just Chinese food!"  He elaborates, "This is your once-a-year chance to be the star of the shtetl. Join with friends and neighbors and sing your heart out alongside Fiddler's screen legends. And it's okay if you haven't memorized all the songs. We provide the lyrics."
Song highlights include the iconic "TRADITION", "IF I WERE A RICH MAN",  "TO LIFE", "SUNRISE SUNSET", "DO YOU LOVE ME?" and "ANATEVKA", among many, many more.
Don't be late! Those who wish to attend the program are advised to purchase tickets in advance as the program has traditionally sold to capacity. We welcome all those in the community who are looking for an alternative Christmas Eve.
See you in the shtetl…
Fiddler Hosts – 2018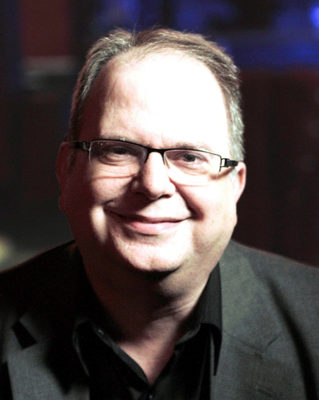 Michael Schlesinger at the Music Hall (Beverly Hills)
Writer, producer, and classic film expert MICHAEL SCHLESINGER will be our host at the MUSIC HALL in Beverly Hills. Known as the "the dean of classic film distributors," Schlesinger worked for more than 25 years at MGM, Paramount and Sony, keeping hundreds of vintage movies in theatrical release. He was responsible for restoring many films, including the award-winning completion of ORSON WELLES' 1942 documentary "It's All True." He has also recorded several DVD commentaries, is a "Trailers From Hell" guru and has appeared in numerous documentaries, notably the recent HBO smash "If You're Not In The Obit, Eat Breakfast." Behind the camera, he wrote and produced the American version of "Godzilla 2000" and co-produced such LARRY BLAMIRE comedies as "The Lost Skeleton Returns Again." According to Schlesinger, he has "never fiddled, and avoids going up onto the roof." His appearance at the will support our community partner, the THE LOS ANGELES JEWISH FILM FESTIVAL. BUY TIX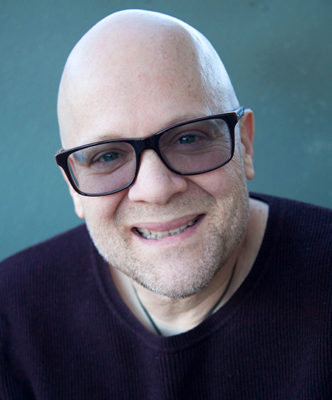 ROBBO at the Ahrya Fine Arts (Beverly Hills)
Singer, songwriter, and legendary Jewish camp songleader ROB ZELONKY, aka "ROBBO" will be our host at the AHRYA FINE ARTS venue in Beverly Hills. A three-time White House performer and Parent's Choice Gold Award winner, Robbo has long been a staple of the national children's music scene. His abundant material on Spotify and iTunes includes the stand-out album "A Kid's Life" which features the vocal talents of Oscar and Emmy nominated celebrities including TERI GARR. Born into a musical family, Robbo began singing Yiddish and American folk songs around Chicago with his parents and sister as a young boy. ROBBO's appearance at FIDDLER will support the SHALOM INSTITUTE. The institute operates CAMP JCA SHALOM in Malibu, one of the several Jewish camps that recently fell victim to the recent Woolsey Fire. Robbo served as the camp's beloved songleader for over 20 years. BUY TIX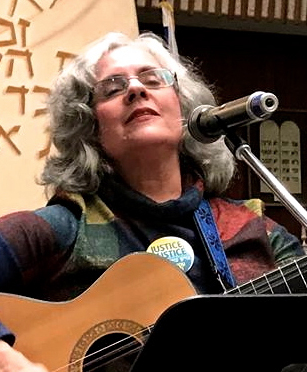 Cantor AVIVA ROSENBLOOM at the Playhouse 7 (Pasadena)
Creator of the Feminist Shabbat at Temple Israel of Hollywood and female cantor pioneer AVIVA ROSENBLOOM headlines proceedings at Laemmle's Pasadena Playhouse. An anti-war activist and veteran of the Civil Rights Movement, Rosenbloom's life trajectory changed after a transformational trip to Israel. With the realization that Jewish music was her calling, her journey soon led her to become the first full-time woman Cantor in Los Angeles. She served as Cantor at Temple Israel of Hollywood for over 30 years from 1975 to 2008. She is also a songwriter, with several recordings of Jewish music to her credit, including the career retrospective "Viva Aviva: A Life in Song." Rosenbloom's appearance will support our community partner, the JEWISH FEDERATION OF THE SAN GABRIEL AND POMONA VALLEYS. BUY TIX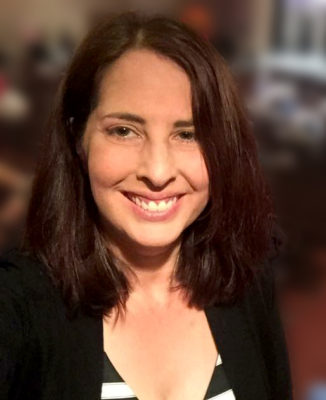 ELISSA GLICKMAN at the Laemmle Glendale
Community leader and CEO of Glendale Arts, ELISSA GLICKMAN will be our host at the brand new Laemmle Glendale. GLENDALE ARTS is the non-profit organization the operates the iconic ALEX THEATRE, a Glendale landmark since 1925 and situated just around the corner from Laemmle. Glickman presides over a dynamic array of film and live programming designed to benefit youth, patrons, artists, and the broader community. She brings more than twenty years of non-profit marketing and event planning experience to the table including stops at the NATIONAL ACADEMY OF RECORDING ARTS AND SCIENCES, AIDS PROJECT LOS ANGELES, and the CHILDREN'S MUSEUM OF LOS ANGELES. Glickman has been awarded "Business Woman of the Year" from both the Glendale Chamber of Commerce and the CA State Assembly. Her appearance at FIDDLER will support the valuable work of Glendale Arts. BUY TIX
AARON WOLF at the Royal (West L.A.)
Award-winning actor and filmmaker AARON WOLF will be our host at the ROYAL THEATRE in West Los Angeles. A native Angeleno, Wolf's latest film, RESTORING TOMORROW is a personal journey of rediscovery told through recounting the awe-inspiring restoration of our sacred spaces, including the synagogue of his upbringing, Wilshire Boulevard Temple. Currently, Wolf is in post-production on the thriller TAR about an ancient creature that lurks beneath the La Brea Tar Pits featuring Academy nominees Timothy Bottoms and Graham Greene. His upcoming comedy project LD UNIVERSITY, and its companion documentary "(We Are All) disAbled" tackles the important topic of learning disabilities and education. Wolf's appearance will support the Wilshire Boulevard Temple Camps in Malibu – CAMP HESS KRAMER and GINDLING HILLTOP CAMP – both devastated in the Woolsey Fire. BUY TIX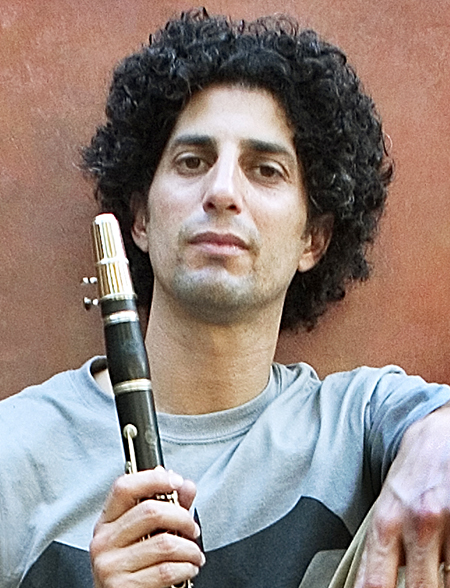 GUSTAVO BULGACH at the NoHo 7 (N. Hollwyood)
Accomplished Klezmer musician and bandleader GUSTAVO BULGACH will be our host at the Royal in West L.A. Born and raised in Buenos Aires, Bulgach was inspired at an early age by the religious and secular life of the Argentine community. Now based in L.A., Bulgach travels the globe uplifting audiences with a vibrant, soulful Klezmer he terms the "soundtrack of the Diaspora." Bulgach has been a longtime member of the House of Blues Foundation house band backing artist such as LITTLE RICHARD, TAJ MAHAL, and THE WAILERS. His own outfit, KLEZMER JUICE, was featured in the Hollywood mega hit movie THE WEDDING CRASHERS featuring Owen Wilson and Vince Vaughn. BUY TIX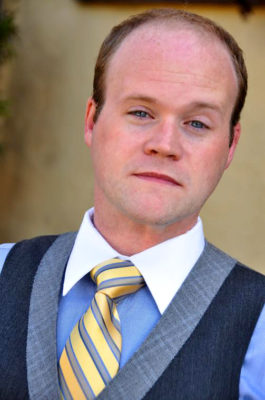 ISAAC WADE at the Monica Film Center (Santa Monica)
Laemmle's very own ISAAC WADE is the General Manager of our MONICA FILM CENTER location and has been working with the company for over 16 years. He is the former GM of the storied LAEMMLE SUNSET 5 in W. Hollywood as well as the company's signature ROYAL venue in West L.A. Additionally, the talented Wade is an accomplished thespian, working overseas and with several local companies such as the L.A. THEATRE ENSEMBLE and cARTel: THE ARTS COLLABORATIVE. During his youth in Kansas, he performed the role of TEVYE in the Galena High School production of Fiddler. Laemmle audiences who love and appreciate Wade in his role as theater manager are in for a treat as he reveals yet another facet of his dynamic persona. BUY TIX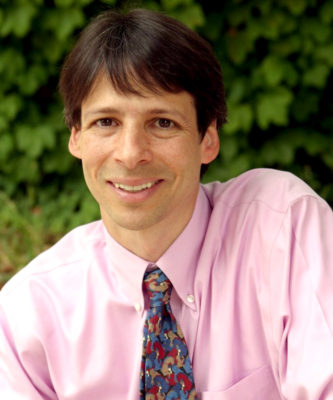 Dr. ARTHUR BENJAMIN at the Claremont 5 (Claremont)
New this year to the Claremont 5, Dr. ARTHUR BENJAMIN brings his mesmerizing math and magic combo to host and entertain our Claremont audiences in an entirely unique way! Appearing on TV and radio on shows such as The Today Show, CNN, The Colbert Report, and NPR, Dr. Benjamin demonstrates and explains his secrets for performing rapid mental calculations faster than a calculator. He has given 3 TED Talks, one of which has been viewed over five million times. Reader's Digest calls him "America's Best Math Whiz". Dr. Benjamin's appearance will support TEMPLE BETH ISRAEL in Claremont, our Fiddler partner for the past six years. BUY TIX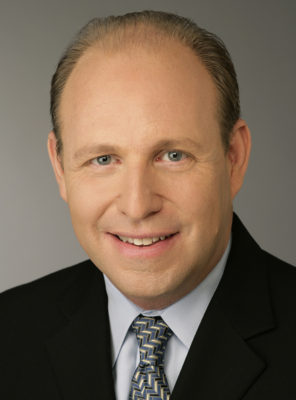 STEVE SASS at the Town Center 5 (Encino, 4:30pm Show)
Community leader STEPHEN SASS currently serves as President of the JEWISH HISTORICAL SOCIETY OF SOUTHERN CALIFORNIA. As founding president of the BREED STREET SHUL PROJECT, he has been instrumental in the ongoing revitalization of one of L.A's earliest synagogues built in 1915 in Boyle Heights. He co-wrote and executive-produced "Meet Me at Brooklyn & Soto" an award-winning documentary on East L.A.'s Jewish Heritage. What's more, Sass is the chair of the L.A. COUNTY HISTORICAL LANDMARKS AND RECORDS COMMISSION, appointed by Supervisor Sheila Kuehl. In professional life, he is the Senior Vice President of Legal Affairs for HBO. Sass' appearance will support our partner, Jewish Historical Society of Southern California. BUY TIX
KENNY ELLIS at theTown Center 5 (Encino, 7:30pm Show)
Known as "The Man Behind the Matzoh Ball," cantor and comedian KENNY ELLIS will be our 7:30pm host in Encino. He appears in support of our partner, the JEWISH HISTORICAL SOCIETY OF SOUTHERN CALIFORNIA. As a cantor and comedian, Ellis has entertained audiences all around the globe. Currently the cantor at Temple Beth Ami in Santa Clarita, you can also catch Ellis at the LAUGH FACTORY in Hollywood. His television credits include recent appearances on CURB YOUR ENTHUSIASM as well as LAW & ORDER. Ellis achieved further success with HANUKKAH SWINGS! a recording that broke new ground as the first ever big band Hanukkah album. Large YouTube audiences have enjoyed "Swingin' Dreidel" and other tracks from the hit record. BUY TIX
DATE: Monday, December 24th
TIME: 7:30pm
PRICING:
General – $18
Senior 62 & Over / Child 11 & Under – $15
Premiere Card General – $15
Premiere Card Senior 62 & Over / Child 11 & Under – $12
LOCATIONS:
Claremont – Get Tickets
Ahrya Fine Arts in Beverly Hills- Get Tickets
Glendale – Get Tickets
NoHo – Get Tickets
Playhouse in Pasadena – Get Tickets
Royal in West L.A. – Get Tickets
Monica Film Center in Santa Monica – Get Tickets
Town Center in Encino- Get Tickets