"All film lovers were saddened by the passing of director Peter Bogdanovich last week, but I may have felt it a bit more keenly. Peter joined us for an Anniversary Classics screening of The Last Picture Show in December of 2016 at the Fine Arts Theatre, and he shared incisive memories about the making of the movie and about many of his other encounters with Hollywood legends over the decades. We were all impressed with how well his film held up after 45 years. As many people commented, it didn't seem dated at all. The evocation of a dying Texas town in the early 1950s remained incisive and poignant.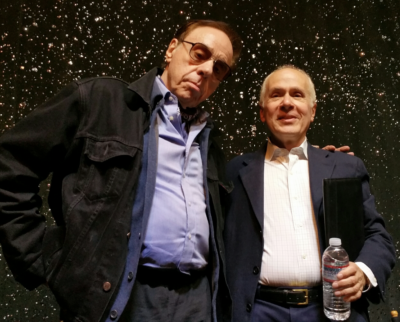 "That was not my first encounter with Bogdanovich. I first met him when I was a graduate student at UCLA film school in the late 1960s and he taught a class on Howard Hawks, one of his friends and idols. I remember we got into a bit of an argument when I suggested that Hawks' To Have and Have Not was not quite as original as he claimed but might have owed something to Casablanca, which came out a couple of years earlier and was directed by non-auteur Michael Curtiz. Anyway, Peter cheerfully dismissed my criticisms. Around the same time, I saw his first film, Targets, which impressed me greatly. Its portrayal of a mass shooter was way ahead of its time, and this story was welded skillfully to an inside-Hollywood tale starring the legendary Boris Karloff in one of his last screen performances. After that came The Last Picture Show and two other huge hits, What's Up, Doc? and Paper Moon. We are hoping to pay tribute to Peter with a 50th Anniversary screening of Doc this year.
"Not all of his later movies were as successful, but he continued working productively, and he also scored successes as an actor and as a film historian. His books of interviews with directors and actors were enormously valuable to all film students and film lovers.
"In the 50 years between that UCLA class and the screening of The Last Picture Show, I encountered Peter on several occasions, and he was always warm and engaging. When I was writing a story about Cher in the 1990s, he shared some incisive memories of directing her in Mask, even though he spoke quite candidly about the tensions between them. Although he was a lover of old Hollywood, he saw the blemishes as well as the triumphs; he was a most clear-eyed observer. Hollywood did not always treat him any better than it treated some of his idols, like his good friend Orson Welles, but he survived to tell the tales, and he never surrendered to bitterness. I feel fortunate to have known him and to have shared a stage with him at that memorable anniversary screening five years ago."
~ Stephen Farber was president of the Los Angeles Film Critics Association from 2012-2016. He is currently a critic for The Hollywood Reporter, a curator of Laemmle's Anniversary Classics series and co-author of Cinema '62: The Greatest Year at the Movies.