The Israeli romantic dramedy GOLDEN VOICES, which we open on October 8 at our Encino, West L.A. and Pasadena theaters, follows Raya and Victor who built a shared career as the Soviet Union's most beloved film dubbers. For decades they worked translating the films of auteurs like Federico Fellini and Stanley Kubrick into Russian. Upon the collapse of the USSR in 1990, the Jewish couple must immigrate to Israel and reinvent their talents to find employment.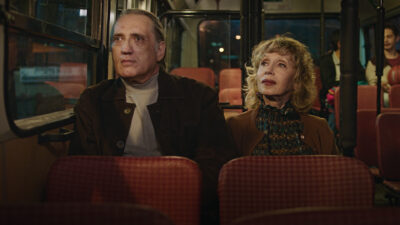 As they strive to acclimate to their adopted home, opportunities for first-rate vocal performances are few and far between. Raya answers a help wanted ad searching for women with "pleasant voices" and finds herself catering to a lonely Russian community as a phone-sex operator, while Victor falls in with a band of black market film pirates from the VHS underground. A charming comedy about disrupting dynamics, starting anew, and rediscovering yourself in the most unexpected places, GOLDEN VOICES is also a stirring tribute to the redemptive power of cinema.
Here's an exclusive clip:
Tablet Magazine described GOLDEN VOICES as "a sensitive and heartwarming film about immigration, growing old, love, and new beginnings" and The Australian called "an original, unusual, and quite disarming film about the immigrant experience."
Director/co-writer Evgeny Ruman says of GOLDEN VOICES, "I came to Israel in 1990 when I was a kid with my family. Going to the cinema was too expensive, so the films I had seen in my first years in Israel were from illegal video libraries for Russian speakers. This is when my love of cinema was born – watching bleak pirate copies that were shot directly from cinema screens and amateurishly dubbed. I was a kid in a strange country and the world of films was the best escape from the harsh reality. Nowadays, being a part of Israeli society and the film industry, I like to look back at the past from a different perspective and turn it into a movie. This film was born from a love of cinema, but while developing the project I discovered it expresses something much bigger than that – the story of grown people that had to reinvent themselves completely in order to start a new life in Israel. The story of my parents.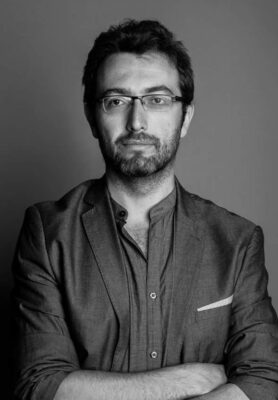 "I see this film as a sad comedy. I believe this story has very touching human moments, as well as very funny and entertaining ones. I want the viewers to experience both fully while watching the film. I certainly would prefer to get the audience to laugh out loud rather than just smile during the most absurd and funniest moments in the film, just as I want them to be deeply engaged in the dramatic storylines and maybe even shed a tear. The story is told in a simple, clean way. Shot in cinemascope wide lenses, the images are rich in details, telling the story visually. In addition to the dialogue and music, we use the point of view of the protagonists – so the audience can have the same experience as Victor and Raya."