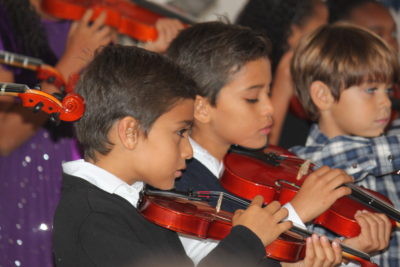 This is a Free Event
RSVP on Eventbrite
LAEMMLE LIVE IS ON THE MOVE for November only.  We proudly present SOL-LA Music Academy and Saint Anne School in a collaborative musical concert on Sunday, November 5, 2017, at Laemmle's Royal Theatre in West Los Angeles. SOL-LA Music Academy is a nonprofit music school in Santa Monica that provides high quality performing arts education to students from all backgrounds and economic circumstances in an engaging and encouraging environment fostering achievement and community. Their comprehensive program reflects the belief that vibrant cultural education nurtures all areas of learning, connects diverse societies and enhances the enjoyment of life.
Saint Anne School is Santa Monica's only nonpublic Title I school, with at least 40% of families qualifying as low income according to federal standards. The school serves a diverse population of families from 66 zip codes. Without SOL-LA, most of these students would not have access to the myriad benefits that a comprehensive music education can offer. The SOL-LA at Saint Anne School program, now in its seventh year, was born out of a desire to see music included as a core curriculum subject.
As a parochial school, Saint Anne has the flexibility to include music as a priority rather than as an elective. Saint Anne partners with SOL-LA to bring high-quality music instruction to its students on-site, with an option for the students to further participate in after school instruction at SOL-LA's campus. SOL-LA at Saint Anne School is a sequential music education program, providing free music instruction and instruments to 270 K–8th Grade students during regular school hours at Saint Anne.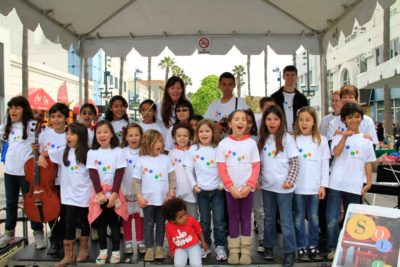 SOL-LA's program at Saint Anne is thoroughly integrated into the curriculum; all students in all classrooms participate in the program. Additionally, SOL-LA provides instruments to students during the school year at no cost.
EVENT DETAILS
Sunday, November 5, 2017
11:00 AM
Laemmle's Royal Theatre
11523 Santa Monica Blvd.
This is a Free Event
RSVP on Eventbrite