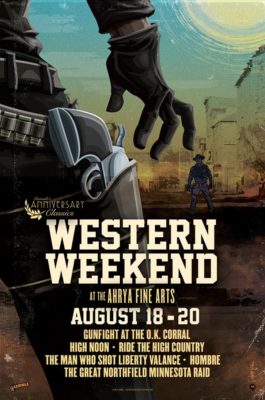 Laemmle Theatres and the Anniversary Classics Series present our second annual tribute to the cowboy genre, Western Weekend, a six-shooter collection of vintage sagebrush films.
This year's round-up includes John Ford's late masterpiece, THE MAN WHO SHOT LIBERTY VALANCE, Fred Zinnemann's venerated HIGH NOON, Sam Peckinpah's early landmark, RIDE THE HIGH COUNTRY, John Sturges' influential GUNFIGHT AT THE O.K. CORRAL, and rediscoveries of revisionist oaters from Martin Ritt, HOMBRE, and Philip Kaufman, THE GREAT NORTHFIELD MINNESOTA RAID.
The star-studded line-up of legendary cowboys, lawmen and outlaws features John Wayne, Gary Cooper, Paul Newman, James Stewart, Kirk Douglas, Burt Lancaster, Lee Marvin, Randolph Scott, Joel McCrea, Fredric March, Robert Duvall, and Grace Kelly, among others. So saddle-up for a retro Western weekend August 18-20. Hitching posts available at the Ahrya Fine Arts in Beverly Hills.
Special guests: THE GREAT NORTHFIELD MINNESOTA RAID Director Philip Kaufman, RIDE THE HIGH COUNTRY Co-Star Mariette Hartley, and HOMBRE Actress Barbara Rush.
Admission is $13 per film. Laemmle Premiere Card holders pay only $10 per ticket. A six film series pass is available for $60 at the Fine Arts box office.
HIGH NOON (1952) – 65th Anniversary
Introduction by Karen Sharpe-Kramer, widow of producer-director Stanley Kramer and president of the Stanley Kramer Library
DCP presentation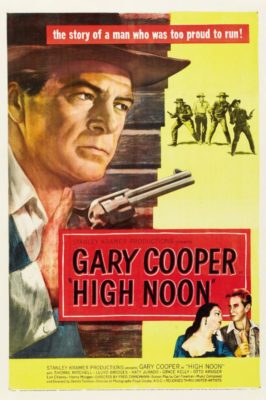 This seminal film in the Western canon, deftly directed by Fred Zinnemann (From Here to Eternity, A Man For All Seasons) won 4 Oscars, including Best Actor for Gary Cooper in one of his best roles as a small town sheriff, abandoned by fearful townsfolk, who must face a desperado and his gang sworn to kill him.
The film had political undertones of the era, and screenwriter Carl Foreman (The Bridge on the River Kwai) was blacklisted after taking the Fifth amendment at the HUAC hearings.
The New York Times praised the film and its anti-McCarthy sentiments with a timely note still resonating 65 years later, "It bears a close relation to things that are happening in the world today, where people are being terrorized by bullies and surrendering freedoms out of senselessness and fear."
The hit theme song won Dimitri Tiomkin two Oscars (Song and Score). The film was notable for having its running time match the story countdown to high noon, and that editing effort won Elmo Williams an Oscar. Also nominated for Best Picture, Director, and Screenplay. With Grace Kelly, Lloyd Bridges, Katy Jurado, and Lon Chaney. New York Film Critics' Best Film of the Year; included in the National Film Registry at its inception (1989). Shows August 20 at 4:30 pm. Click here for tickets.
GUNFIGHT AT THE O.K. CORRAL (1957) – 60th Anniversary
35mm presentation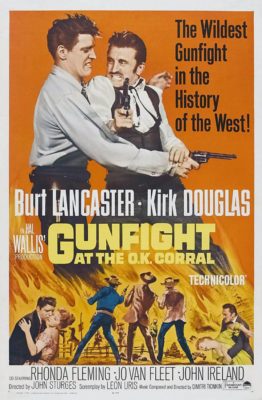 A popular and influential oater that recreated the legendary 1881 shootout in Tombstone, Arizona, notable for its inspired casting of Kirk Douglas as Doc Holliday and Burt Lancaster as Wyatt Earp, who give solid performances as the iconic figures of the Old West.
Well-directed by John Sturges (Bad Day at Black Rock, The Great Escape), and written by Leon Uris (Exodus), the film scored big at the box-office. Its success paved the way for the Western super-productions of the 60s, including Sturges' The Magnificent Seven and Best Picture Oscar nominee How the West Was Won.
The sharp color cinematography is by Charles B. Lang; Music by Dimitri Tiomkin. Nominated for 2 Academy Awards (Sound and Film Editing).
The strong supporting cast includes Rhonda Fleming, Oscar winner Jo Van Fleet, John Ireland and rising actors Dennis Hopper, Earl Holliman and Deforest Kelley. Shows August 19 at 5:30 pm. Click here for tickets.
THE MAN WHO SHOT LIBERTY VALANCE (1962) – 55th Anniversary
DCP presentation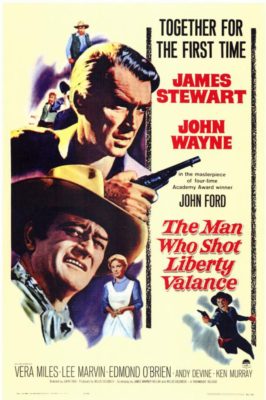 The penultimate Western of director John Ford, re-teamed with frequent collaborator John Wayne, and joined by James Stewart, who had found major success in the 50s in saddles and spurs for director Anthony Mann. By this time Wayne had become a cultural icon, symbolizing the cowboy-soldier hero both on and off the screen. Stewart gives perhaps his greatest Western performance as an idealistic lawyer who brings civilization to the primitive frontier, but rises to national recognition ironically through a gunfight showdown.
Shot in black and white, and using mostly studio interiors, Ford and company (producer Willis Goldbeck co-scripting with James Warner Bellah) spin a yarn of archetypes and myths, but with new self-awareness of the lies that perpetrated the Western mythology ("When the legend becomes fact, print the legend.").
Kenneth Turan applauded, "Told with a simplicity that feels almost like ritual…Liberty Valance unfolds seamlessly, without a frame wasted or out of place."
Added to the National Film Registry in 2007. With Vera Miles, Edmond O'Brien, Woody Strode, Andy Devine and Lee Marvin as the snarling varmint, Liberty Valance. Shows August 19 at 8:00 pm. Click here for tickets.
RIDE THE HIGH COUNTRY (1962) – 55th Anniversary
Actress Mariette Hartley in Person
35mm presentation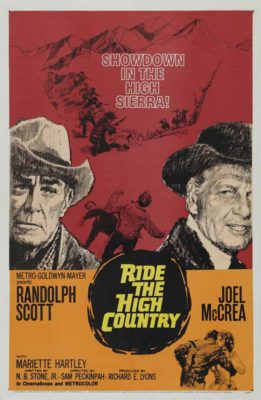 This autumnal Western dealt with many of the same themes of a changing West that John Ford explored in Liberty Valance. But young director Sam Peckinpah brought an edgier perspective to his examination of the closing of the frontier.
Western film veterans Randolph Scott and Joel McCrea play aging gunfighters confronting a new world at the start of the 20th century. Laced with irreverent humor and sometimes startling sexual candor, the film turns into a deeply moving elegy for its upright cowboy heroes. Despite a haphazard release by the studio, the film was named by Newsweek as the best film of 1962, and in his four-star review, Leonard Maltin called it a "literate, magnificent Western." It was inducted into the National Film Registry in 1997.
This screening will be followed by a Q & A with actress Mariette Hartley, who made her film debut in the role of an innocent but spirited frontier woman. The cast also includes Warren Oates, Ron Starr, L.Q. Jones, R.G. Armstrong, and Edgar Buchanan. Cinematography by Lucien Ballard. Shows August 19 at 3:00 pm. Click here for tickets.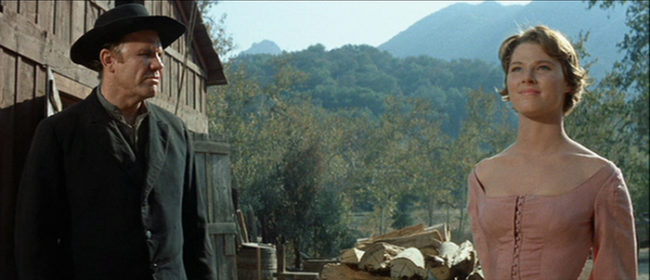 HOMBRE (1967) – 50th Anniversary
Actress Barbara Rush in Person
DCP presentation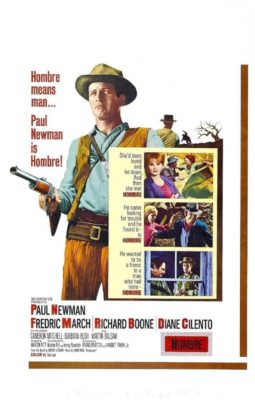 This was one of the first of a new breed of Westerns of the 1960s and 70s that challenged the negative portrayals of Native Americans perpetrated in many earlier films. Paul Newman plays a white man raised by the Apache and embittered by the mistreatment of his adoptive tribe.
The film was created by the same team that made the Oscar-winning modern Western, Hud, four years earlier: director Martin Ritt, screenwriters Irving Ravetch and Harriet Frank, Jr., and cinematographer James Wong Howe, in addition to Newman.
Adapted from a novel by Elmore Leonard, the plot owes a debt to John Ford's classic Stagecoach, retooled with anti-Establishment bite. The extraordinary ensemble cast includes Oscar winners Fredric March and Martin Balsam, Oscar nominee Diane Cilento, Richard Boone, Barbara Rush, Cameron Mitchell, and newcomers Maggie Blye and Peter Lazer.
As Roger Ebert wrote, "The performances are uniformly excellent." The New York Times' Bosley Crowther said, "Savor it for its fine ingredients…this is a first-rate cooking of a western recipe." Shows August 20 at 2:00 pm. Click here for tickets.
THE GREAT NORTHFIELD MINNESOTA RAID (1972) – 45th Anniversary
Writer-director Philip Kaufman in Person
35mm presentation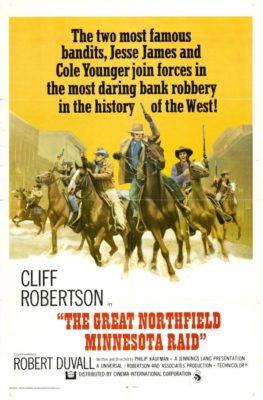 Of all the revisionist Westerns made during the late 1960s and early 1970s, this may be one of the least heralded and most inventive. The story of the last bank robbery perpetrated by the James and Younger gangs stars Oscar winners Cliff Robertson as Cole Younger and Robert Duvall as Jesse James.
Duvall's witty portrayal of the iconic outlaw as a sly, loony psychopath is one of the most original additions to Western film lore. New writer-director Philip Kaufman mixes humor, lyricism, and breathtaking action set-pieces.
Jay Cocks of Time magazine called Northfield "the kind of first movie so rich in texture and invention that we can look forward to a lot more from Philip Kaufman."
Indeed, Kaufman went on to direct the first remake of Invasion of the Body Snatchers, The Wanderers, The Right Stuff, and The Unbearable Lightness of Being. The supporting cast includes film veterans R.G. Armstrong, Elisha Cook Jr., Royal Dano, Dana Elcar, and Donald Moffat, along with newer faces Luke Askew, Matt Clark, and Mary-Robin Redd. Photographed by Bruce Surtees, with a musical score by Oscar winner Dave Grusin. Kaufman will make an in-person appearance on the opening night of our Western Weekend. Shows August 18 at 7:30 pm. Click here for tickets.