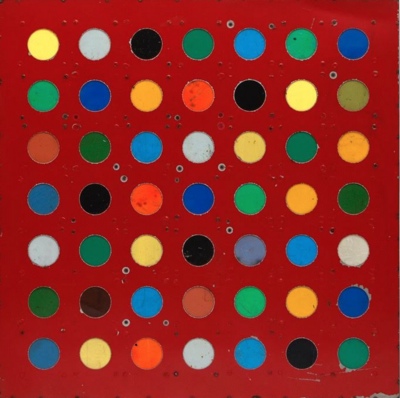 Laemmle's Art in the Arthouse is delighted to present a solo exhibition of works by American artist DAVID BUCKINGHAM this coming Tuesday, Aug. 30 at the Monica Film Center.
Buckingham is a unique craftsman. Harnessing found metals to produce dynamic assemblages, he breaks the mold of contemporary art practices.
This exhibit will show for three months, but Buckingham will only be present for ONE night.  And you're invited to attend.  Click here to RSVP.  (No charge for entry.) The evening will include a slideshow, Q&A with the artist, and schmoozing both on the first-floor gallery as well as upstairs in the mezzanine lounge.  The event will also feature the talents of our visiting curator, KATE STERN, who is renowned for her work on the important  Frostig Collection.
Event Details
Tuesday, Aug. 30
7:00pm – 9:00pm
Monica Film Center
RSVP (no charge)
** Scroll down for more images ***
About the Exhibit:
After a successful career as an advertising writer, David Buckingham launched his artistic journey in his 40s. His unconventional art education began with a "5-minute" welding lesson from artist Ray "Cowboy" Kelly of the Rivington School, a 1980s movement remembered by Buckingham as "a bunch of anarchist welders and poets and performance artists," in New York's East Village.
A neo-pop artist, Buckingham roamswindblown alleys, abandoned factories, dodgy neighborhoods, gritty industrial areas, and the low deserts of Southern CA in search of the cast off and forgotten – detritus such as tractor parts, old signage, car doors, gas cans, etc. It's with this found collection of metal that he carves, bends, bolts and welds his assemblages, breathing new life into the discarded forms. All colors are original as discovered; as he is fond of saying, "Buckingham is no painter!"
For his Art in the Arthouse show, NOBODY LIKES A SMARTASS, Buckingham aptly drew from his passion for cinema and dialogue. Quotes from iconic films like The Big Lebowski – "I don't roll on Shabbos" and Blazing Saddles – "Where the white women at?" along with classic sound effects like "THWIP!" from Spidermen, feel right at home on the walls of the movie theater. Like David, the work is left of center or slightly askew, always playful and often raunchy.
Buckingham has exhibited extensively in the U.S. and abroad, including the California's Riverside Art Museum and the Lancaster Museum of Art and History. His sculptures have been installed as public artworks in West Hollywood and Newport Beach. His work has been featured in an international advertising campaign for Wrangler Jeans and is purchased and commissioned by private collectors around the world.
– Kate Stern, Curator