Wow!  Thanks to our patrons and community partners, we're pleased to report that our 75th Anniversary activities raised approximately $100,000 for the Laemmle Charitable Foundation!  These funds will be directed to local, L.A.-based non-profits doing inspired work around the issues of poverty, the environment, and alternative transit.
With $18,000 in ticket sales, the response to the 75th Anniversary Raffle was beyond expectations.  In addition, $70,000 was raised via our commemorative book – "Not Afraid … 75 Years of Film Exhibition in L.A."  The final $12,000 came from tickets purchased to the 75th Anniversary Gala held at the Royal Theatre on December 17th.  Additional support was provided by ticket buyers at four additional celebratory screenings at the Monica, Claremont, NoHo, and Playhouse.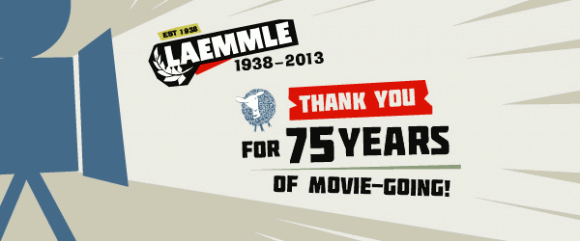 Even though the 75th Anniversary events have passed, it's not too late to participate! Your purchase of a 75th Anniversary T-shirt or the  "Not Afraid…" book will benefit the Foundation.  The book, which features articles on Laemmle History, our Top 75 Films, classic L.A. Eateries, and more, is a great keepsake. It can be purchased at any Laemmle theatre or online. The spiffy t-shirts are also available online and at select Laemmle locations (Claremont, Encino, North Hollywood, Pasadena, and West L.A.).
—————————
Reminder: If you purchased a raffle ticket, please visit any Laemmle location to redeem your raffle stub for a FREE COPY of the "Not Afraid…" book.
—————————
If you had the good fortune of attending the 75th Anniversary Gala at the Royal, you know what a fantastic evening it was.  Senior V.P. Jay Reisbaum kicked off the proceedings with some brief remarks about the Laemmle Foundation.  Then Bob Laemmle regaled attendees with memories of his father, Laemmle Theatres co-founder Max Laemmle, and talked about the bygone days of movie exhibition.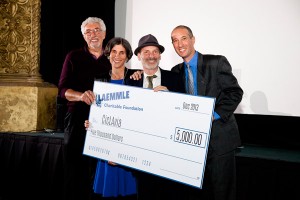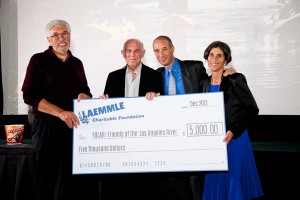 Tish Laemmle, wife of current company President Greg Laemmle, introduced Aaron Paley of CicLaVia, who accepted a grant of $5000 for L.A.'s preeminent bike and pedestrian street festival. Lewis MacAdams captivated everyone with a very impassioned speech on behalf of the L.A. River.  His organization, FOLAR (Friends of the L.A. River) also received $5000 from the Foundation.  Lastly, we were thrilled to honor Alyse Laemmle, wife of co-founder Kurt Laemmle, who was in attendance and, at 97 years old, still going strong!
The evening culminated with a screening of  A MAN AND A WOMAN, Claude Lelouch's classic 1966 French romance that enjoyed a startling two-year run at the Laemmle Regent, thus kicking off the Westwood Village moviegoing boom.
The 75th Anniversary was a "coming out" party or sorts for the Laemmle Charitable Foundation. While the Foundation has been around since 2000, it had kept a low-profile. The 75th Anniversary presented a great opportunity to raise funds and bring its mission into clear focus for the community.
The Foundation is an IRS recognized 501(c)(3) private, non-profit organization, meaning your donations to the Foundation are tax-deductible to the extent allowed by law. Without any paid staff,  the Foundation has managed to distribute more than $850,000 since its inception.  The board hopes to cross the $1M mark by the end of 2014.  As mentioned earlier, giving is directed to local organizations with the ultimate aim of making L.A. a more livable and compassionate city for all its denizens.  For more information on the Foundation, including a full list of beneficiaries, visit its website at www.laemmlefoundation.org.
We'd be remiss if we didn't end this post with a big thank you to the entire Laemmle community, including you, our devoted patrons, friends, family, associates, and sponsors.  In most cases, these parties are one and the same – as we consider all in our purview to be, as poet Ogden Nash observed, 'Laemmle Faemmle.'
Since 1938, we've been bringing great cinema to L.A.  As a result, we've thrived as a family owned and operated business for over three successive generations of leadership. And we couldn't have done it without you.  So here's to the past 75 years … and the next!