A dreamy fantasia, Annette is French auteur Leos Carax's English-language debut is a musical whose experimental approach to its emotional extremes is an ambitious return for the director. The screenplay is by Ron Mael and Russell Mael of Sparks and Carax from an original story, music and songs by the band. The plot follows a stand-up comedian (Adam Driver) and his opera singer wife (Marion Cotillard) and how their lives are changed when they have their first child. Writing in New York Magazine, critic Bilge Ebiri called Annette "an altogether weirder, more troubling and personal film than one might expect…this astoundingly beautiful picture will stand the test of time." Laemmle Theatres opens the film this Friday, August 6 at the Claremont, Glendale, Monica Film Center, Newhall, NoHo, Playhouse and Town Center.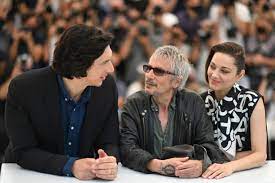 Following are excerpts from interviews with Carax, Cotillard and Driver in the film's the Cannes Film Festival press book:
Interview with Leos Carax
Q: When did you did you first encounter the music of Sparks?
A: When I was 13 or 14, a few years after I discovered Bowie. The first album of theirs I got (stole, actually) was Propaganda. And then, Indiscreet. Those are still two of my favorite pop albums today. But later, for years, I wasn't really aware of what Sparks was doing, because by the age of 16, I started to focus on cinema.
Q: And when and how did you meet brothers Ron and Russell Mael?
A: A year or two after my previous film, Holy Motors, came out. There's a scene in which Denis Lavant plays a song from Indiscreet in his car: "How Are You Getting Home?" So they knew I liked their work, and contacted me about a musical project. A fantasy about Ingmar Bergman, trapped in Hollywood and unable to escape the city. But that wasn't for me: I could never do something that is set in the past, and I wouldn't make a film with a character called Ingmar Bergman. A few months later they sent me about 20 demos and the idea for Annette.
Q: What has been your relationship to musical films? Even in your older films it feels like at times musicals are itching to break out of them. You often had these incredible set pieces with characters expressing themselves through song and dance. Is the idea of making a musical something you've been thinking about for a long time?
A: Ever since I began making films. I had imagined my third film, Lovers on the Bridge, as a musical. The big problem, my big regret, is that I can't compose music myself. And how do you choose, work with, a composer? That worried me.
I didn't watch many musicals when I was young. I remember seeing Brian De Palma's Phantom of the Paradise, around the same time I discovered Sparks. I eventually saw American, Russian, and Indian musicals later. And of course, Jacques Demy's films.
Musicals give cinema another dimension — almost literally: you have time, space, and music. And they bring an amazing freedom. You can direct a scene by following the music's lead, or by going against the music. You can mix all sorts of contradictory emotions, in a way that is impossible in films where people don't sing or dance. You can be grotesque and profound at the same time. And silence, silence becomes something new: not just silence in contrast with spoken words and the sounds of the world, but a deeper one.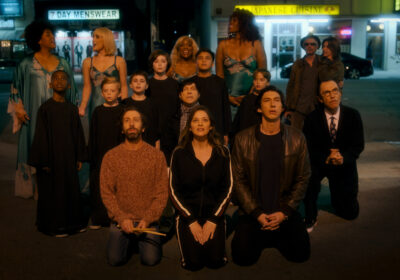 Interview with Marion Cotillard
Q: How much did you like Leos Carax's films before you came on board for the Annette adventure?
I'm not sure how old I was exactly when I saw Lovers on the Bridge for the first time, but I know I already wanted to be an actress. I'd loved the film, its gracefulness, its poetry – I was overwhelmed. But then again, there was Juliette Binoche whose character, performance, and radiance swept me off my feet at the time. I fell in love with Leos Carax's artistry, and I saw all of his films over time, up until his latest, Holy Motors, which I think is a masterpiece.
Q: Annette's script is a very peculiar affair, halfway between a traditional narrative and an opera libretto, accompanied by Sparks' songs. How di you react when you first read it?
A: When I received the script, I already knew the film was entirely sung, and the narrative was only made up of songs. I was already sold, as it were. I felt so lucky to be able to lay my hands on this piece. And then I was totally won over as I read it – I related both to the uplifting element of the operatic musical and the profound darkness of what the film is about.
Q: Did you still hesitate in any way before embarking on the project?
A: I  immediately  wanted  to  work  with  Leos, but I wasn't sure I could bring all that the character required. Leos is a rare filmmaker and makes very few films. It necessarily adds to the pressure, to the fear of not being able to match up to him as an artist. So I did hesitate a little. I asked my singing teacher if I could in no time learn how to live up to what was expected of me, even though I obviously couldn't possibly become an opera singer in just a few weeks. We knew from the outset that we had to come up with a method for the opera singing part – and blend my voice with that of a professional singer. Still, it was a huge challenge. My teacher told me it'd be difficult, it'd take a lot of work, but that we could be confident. I needed his blessing to say "Yes."
Q: How familiar were you with Sparks' music before working on this project? How does it inspire you?
A: I wasn't familiar with their music at all but as a teenager, I just loved Rita Mitsouko's "Singing in the Shower" and I found out later it was written by Sparks. Then I met with them for this project – and I was overwhelmed by their commitment to and faith in the film. Sparks has always been involved in the project, from its early days. There's something liberating when you actually get down to work, for artists who have been a part of this project for so long, who fought to bring it to completion. The film was getting made, and they knew it, and we all shared in the joy of working all together for the benefit of a special project and of special artists.
Q: Leos Carax is best known for being a painstaking filmmaker on set and for addressing the actors almost by whispering into their ears. Did you experience that yourself?
A: He's both very specific on set and very flamboyant. He's totally in love with his job, with the set, with the filmmaking process, the actors, and he's highly respectful – as an actor, it's wonderful to feel watched and cared for by an artist such as him. What struck me on set is how much he keeps track of every detail – how well a piece of clothing fits, how you convey what you intend to portray and so forth. He was so focused, and all the more so as the shoot was particularly challenging because Leos was intent on having all the songs performed live. On most traditional musicals, you record your songs during preproduction and then you lip-sync on set. But on this project, Leos wanted everything to be live. It made the shoot even more challenging – we'd be singing in very awkward positions, like backstroking or faking cunnilingus, which are very challenging postures that technically affect your singing. But this is the kind of effect Leos was looking for – he wanted voices to be altered, thwarted by reality.
Q: Tell us about your approach to singing and music, precisely. How did you work with the singer Catherine Trottmann, whose voice was blended with yours for the opera singing part?
A: We knew from the start that I couldn't take on the opera singing all by myself. It's just impossible to reach a soprano's vibrato in barely three months of training. So we decided to blend my voice with that of a professional singer, but we only found her after we wrapped the shoot, which made things even more difficult. I had a wonderful time with Catherine Trottman as I almost found myself in the position of a film director
– I'd give her directions on how to adjust her voice, on the songs' meaning etc. It was both complicated to pass on part of my performance to someone else and extremely inspiring.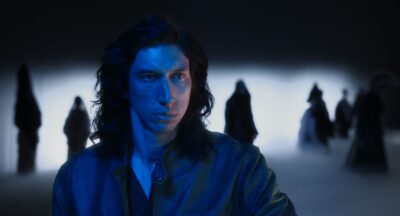 Interview with Adam Driver
Q: What was it about the project that made want to be a part of it, not only as an actor but as a producer?
A: That  it  was  Leos.  That  it  was  a  musical the Sparks wrote. There were all these big sequences that required rehearsal, big set pieces, a lot of moving parts. All of it sounded like a challenge but that the result could be singular.
Q: What was it about Leos Carax's previous work that made you interested in collaborating with him? Were there any films of his that you particularly liked or were inspired by?
A: The actors seemed to have such freedom in them. And the shots are incredible. They ask a lot of the people making them. Hard to pick a specific one. There are moments and sequences in all of them that are unforgettable.
Q: What was Leos' directing style like on set?
A: Hard to summarize but from my perspective he's living every moment along with his actors and crew; so he's not leading with a bullhorn, it's more from a place of focus. He's doesn't miss a detail. He's great at balancing moments of complete spontaneity within heavy choreography. He's hilarious. He's one of the great directors of all time.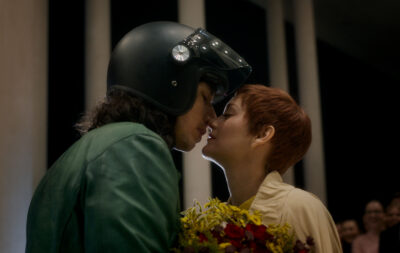 Q: Much of the dialogue is sung. What did you do to prepare for the musical aspect of the role? What was the rehearsal process like?
A: As far as the music was concerned, I met with Michael Rafter, who I had worked with on Marriage Story. I drilled the songs with him for months. The Sparks and Leos were very clear with what sound they were going for and that the storytelling was the priority. We pre-recorded everything as a back-up but we sung everything live as well. I don't know what percentage made it in the movie but I think the majority.