In the newly restored British comedy THE LADYKILLERS (1955), a crew of thieves led by Professor Marcus (Alec Guinness) pulls off a daring heist and tricks their elderly landlady, who believes them to be a string quintet, into sneaking the loot past the authorities. When things don't go as planned, the crew must improvise to keep their treasure and to ensure the old woman's silence. Widely considered one of the finest comedies ever filmed, we're proud to screen it at the Royal, Playhouse and Town Center starting July 2.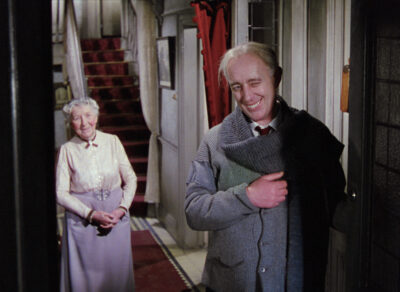 "A superbly elegant comedy. Even after 65 years, it still kills… Subversive, hilarious and as English as Elgar… A mixture of cynicism with guileless innocence." – Peter Bradshaw, The Guardian
"Extravagantly funny." – Pauline Kael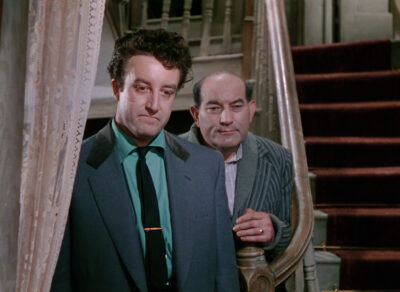 "Near flawless." — Philip French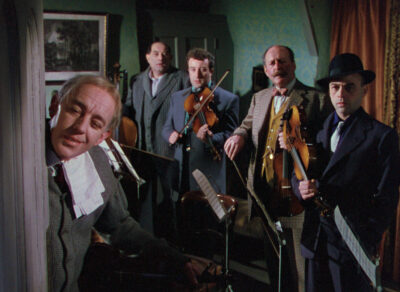 "The last, most enduring and best known of all the studio's comedies, in which the sheer blackness of the central concept is barely disguised by the accomplished farce which surrounds it." – Time Out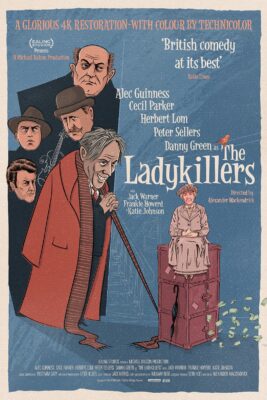 Rialto Pictures on the 2021 restoration:
As the last British film shot in three-strip Technicolor, THE LADYKILLERS is fortunate to have all thirty-three reels of its original Technicolor camera negative. So it was crucial and important that these elements be used for StudioCanal's restoration, the best version of the film since its original release.
The restoration began with the 4K pin-registered scanning of the original 1950s Technicolor three-strip camera negative. With three-strip Technicolor (a process that was last used by Hollywood in the early 1970s), three color separations (r yellow, cyan and magenta) are combined to create the full Technicolor palette. Therefore, though the release prints of THE LADYKILLERS are 11 reels total, there are 33 reels of camera negative.
One of the biggest issues to overcome was the proper alignment of the separations. This was automated to a certain extent, but a huge amount of manual tweaking was required, involving tracking each one of the perforations. This is performed to avoid "fringing," which causes colored outlines on edges of objects, faces etc.
Manual and automated digital restoration was then carried out over the aligned images. This was to remove particles of dirt, debris, hair, sparkle and then moving onto bigger issues such as stains, marks and scratches. The film suffered from a few extreme issues such as blue marks in the middle to right hand side of frame throughout the film that had to be removed. There was significant flicker that has been corrected as best as possible on a shot-by-shot basis. Many shots suffered from instability and some sections also suffered from scratching, the worst being four minutes of scratched film throughout an entire sequence.
In total, the film benefitted from over 1000 hours' worth of 4K digital restoration. A 35mm Technicolor print was used as a reference for the color grade to ensure the new HDR Dolby Vision master stayed true to the film's original 1950s "color by Technicolor" look.