Laemmle Theatres and the Anniversary Classics Series pay tribute to director Stanley Donen, who died in February, with a screening of one of his best loved musical films, Seven Brides for Seven Brothers. The film was nominated for Best Picture of 1954 and earned four other Academy Award nominations; it won the Oscar for Best Scoring of a Musical.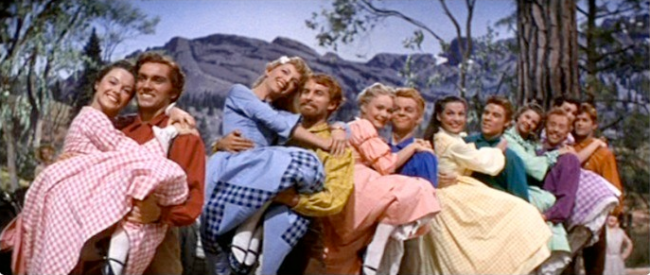 Donen often strived to expand the musical form in such landmark films as Singin' in the Rain, On the Town, It's Always Fair Weather, and Funny Face. With Seven Brides he chose to do an outdoor musical with a Western setting, though much of it was actually shot on the MGM lot.
The most important innovation was that Donen, working closely with choreographer Michael Kidd, decided to focus the musical numbers on a group of male dancers. The film's producer and MGM executives were nervous about this emphasis, but Donen persisted, and the film's box office success and critical acclaim vindicated his iconoclastic approach. To execute the musical numbers, Donen recruited experienced dancers Jacques d'Amboise, Tommy Rall, Marc Platt, and our evening's special guest speaker, Russ Tamblyn, who had one of his most memorable roles as the youngest member of a backwoods family.
Howard Keel plays the oldest of the seven brothers, who comes down from their mountain home to find a bride who can help to keep house for him and his family. Jane Powell, who had starred in Donen's first solo directing effort, Royal Wedding with Fred Astaire, plays the feisty frontier woman who proves more than a match for the domineering Keel. Other cast members include Julie Newmar, Ruta Lee, Jeff Richards, and Ian Wolfe.
The music was by Saul Chaplin and Gene de Paul, with lyrics by Johnny Mercer. The screenplay was written by veterans Albert Hackett, Frances Goodrich, and Dorothy Kingsley, adapted from a short story by Stephen Vincent Benet, which was in turn inspired by Roman histories by Plutarch.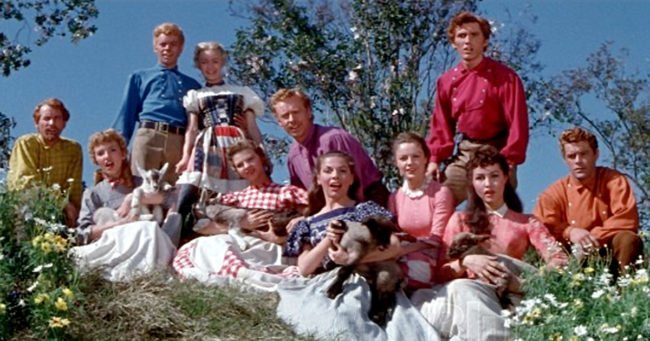 That original story about the rape of the Sabine women provoked controversy in later years. Following the ancient history books, Keel's character encourages his brothers to kidnap the women they love and bring them by force to their mountain home, which is then blocked by an avalanche that prevents their family members from rescuing them until spring. Contemporary audiences have rightly questioned this sexist plot element. But it should be noted that the women more than hold their own against their abductors. Powell in particular plays a very strong-willed character who protects the kidnapped women and forces the men to live in the barn while she watches over the women in the family homestead.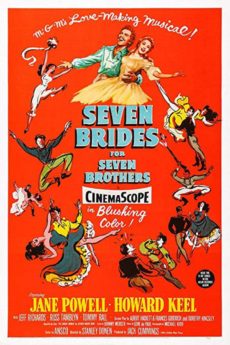 One of Donen's achievements in all his films was to create imposing, three-dimensional female characters, and Powell's Milly is just one striking example of the way in which the director—and his female screenwriters—defied the prevailing norms of the 1950s toxic masculinity. Beyond any political controversies, however, the film endures as one of the most scintillating musicals of the era, praised at the time and lovingly remembered today.
In 1954 Variety wrote, "This is a happy, hand-clapping, foot-stomping, country type of musical with the slickness of a Broadway show." (It was adapted for Broadway two decades later and also inspired a TV series in the 1980s.) The Washington Post's Richard L. Coe wrote, "Dandy dancing, singable songs and the ozone of originality make Seven Brides for Seven Brothers the niftiest musical I've seen in months."
Many years later, Leonard Maltin wrote, "Rollicking musical perfectly integrates song, dance, and story." Time magazine's Stephanie Zacharek called the barn-raising sequence "one of the most rousing dance numbers ever put on screen." The film was added to the National Film Registry of the Library of Congress in 2004.
Russ Tamblyn appeared at our anniversary screenings of the classic West Side Story and the chilling suspense film, The Haunting. He first came to attention when he played Elizabeth Taylor's kid brother in Father of the Bride and its sequel. He also co-starred in Hit the Deck, The Fastest Gun Alive, Don't Go Near the Water, Tom Thumb, The Wonderful World of the Brothers Grimm, and he earned an Oscar nomination for 1957's Peyton Place. Later he drew renewed attention for his role in David Lynch's cult series, Twin Peaks.
Format: Blu-ray
SEVEN BRIDES FOR SEVEN BROTHERS with Russ Tamblyn in person screens Saturday, April 6, at 7:30pm at the Ahrya Fine Arts Theater in Beverly Hills. Click here for tickets.