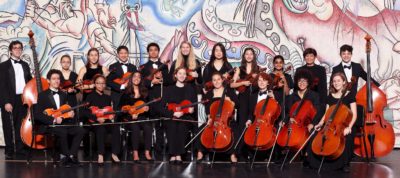 This is a Free Event
RSVP on Eventbrite
LAEMMLE LIVE is delighted to welcome back the talented musicians of the Samohi Chamber Orchestra. Repertoire will include Der Tod Und Das Mädehen (Death and the Maiden) by Franz Schubert, arranged for string Orchestra by Gustav Mahler and Concerto Grosso for String Orchestra with Piano Obbligato by Ernest Bloch. Joni Swenson and Jason Aiello, Directors. Guest Host, KUSC Radio Announcer Rich Capparela.
Samohi has a long tradition of musical excellence. Several factors contribute to the strength of the Samoni music program including strong elementary and middle school programs, a supportive community, an outstanding music faculty and fine arts coordinator, enthusiastic administrative support, and most important, dedicated parents and students. The Samohi orchestra program offers opportunities to all musicians, ranging from entry to advanced levels. Courses offered are the Beginning Orchestra, String Orchestra, Concert Orchestra, Sinfonia Orchestra, Philharmonic Orchestra, Symphony Orchestra, and Chamber Orchestra. Students receive one hour per week of sectional small group instruction taught by paid coaches funded by the Samohi Orchestra Parents Association.
Sunday, February 24, 2019
Monica Film Center
1332 Second Street
Santa Monica, CA
11am – 12pm