Laemmle's Art in the Arthouse presents THE PASADENA ART SHOW 2018! Please join us as we celebrate our local artists in an intimate theatre setting. Our special event features a slideshow on the big screen, artist talks, and of course refreshments. Meet the artists and stay for the wine, cheese and conversation Art in the Arthouse is known for. Sales benefit the Laemmle Foundation and its support of humanitarian and environmental causes in the Los Angeles region.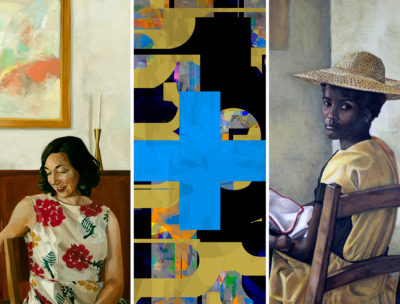 About the Exhibit
We continue our tradition of showcasing dynamic, local talent in this fourth edition of our annual Pasadena group exhibit. Produced every year by master impresario Lynn Chang, the process began with an online juried selection culled from over two hundred entries.
Judging criteria included aspects such as color, tone, line, composition, as well as skillful handling and sensitivity to media and materials. The body of work engages, delights, and provokes some intriguing questions: Do artists impose their picture on the world or does the world impose itself upon the artist? How do artists bridge the space between source and creative output? One cannot create and be in doubt at the same time. Just as no two objects occupy the same space, it takes conviction and commitment for the work to find its voice.
The challenge for our artists is how to extend the visual moment through guile and
wonder. Shifting fields of nature, tonal photos, torn paper landscapes, figures gazing in the stillness of a room, and dreamy abstracts reconnect us to the present.
 – Joshua Elias, CURATOR
Artist Reception:
Laemmle Playhouse 7
Wednesday June 13, 7-9pm
Refreshments will be provided
RSVP here
This is a Free Event