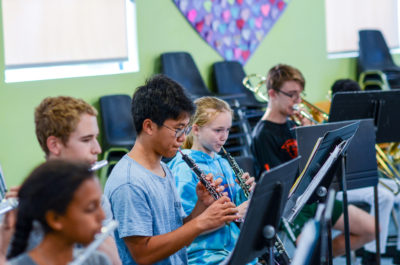 This is a Free Event
RSVP on Eventbrite
LAEMMLE LIVE proudly presents the Academy Philharmonic, Sunday, May 6, 2018. Middle school students from the woodwind and brass sections of Elemental Music perform chamber music from different genres. Sunday's program will include Fire Dance by David Shaffer, March (from Second Suite in F) by Gustav Holst, arr. Scott Stanton, Amparito Roca by Jaime Texidor, arr. James Curnow, and additional selections announced from the stage.
Academy Philharmonic is a program of Elemental Music, created to inspire, train, and nurture young musicians in Santa Monica. The organization began in 2004 by a SMMUSD music teacher who wanted to create an opportunity for elementary students to play in an orchestra throughout the school year, make new friends, and get excited about music. Since then, more than 1,000 students have participated in Elemental Music. Initially serving only 25 elementary school students, programs now serve nearly 300 elementary and middle school students in seven different programs this season.
Academy Philharmonic is one of Elemental Music's newest programs. Comprised of six, seventh, and eighth graders, Academy Philharmonic provides new opportunities for middle schoolers in Santa Monica to experience the thrill of playing in a full orchestra, learning how to listen and blend with new instrument groups, and rehearsing and performing exciting new repertoire selections – all while being coached by some of the best teachers on the westside! Our students work with expert teaching artists to polish their technical skills and dig into the joys of music-making, all in a social setting. We offer many opportunities for student performances throughout the year at three different Elemental Music concerts plus various public events in the Santa Monica community. Elemental Music's young musicians blossom in their own ways, both socially and musically. This vibrant program inspires a love of music in the hearts of some of the westside's youngest artists.
Event Details
Sunday, May 6, 2018
11:00 am
Monica Film Center
This is a Free Event
RSVP on Eventbrite