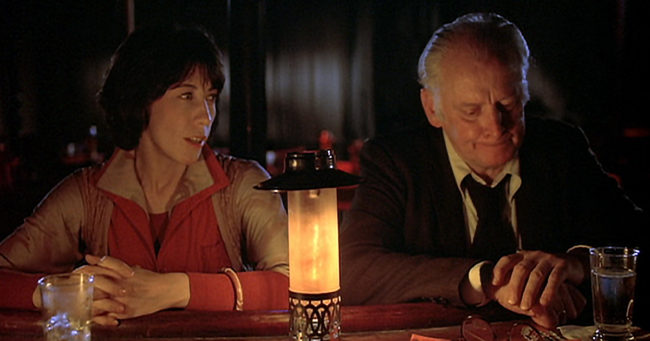 Laemmle Theatres and the Anniversary Classics series present a screening of one of the forgotten gems of the 1970s, Robert Benton's homage to the detective genre, THE LATE SHOW, produced by Robert Altman and starring Oscar winner Art Carney and Oscar nominee Lily Tomlin. Tomlin, a Tony, Emmy, and Grammy winner, will join us for a discussion of one of her most charming films.
Carney plays an aging private eye who swings into action after the murder of his friend and fellow detective, played by Howard Duff. This plot element recalls the opening of the archetypal private eye movie of Hollywood's Golden Age, The Maltese Falcon. But Carney's age and infirmities add a touch of vulnerability to the portrait that wasn't evident in the classic films with Bogart and other stars of the 1940s.
Tomlin plays a Hollywood kook who initially hires Carney to find the kidnapper of her cat but ultimately joins him in his detective work. As Variety wrote, "Benton has fashioned a contemporary tribute to the private eye yarns of the 1940s and in the process has given Carney and Tomlin the freedom to create extremely sympathetic characters. Both performances are knockout." Time's Richard Schickel agreed that The Late Show was "by far the most intelligent, engaging attempt at reincarnation of the private eye genre."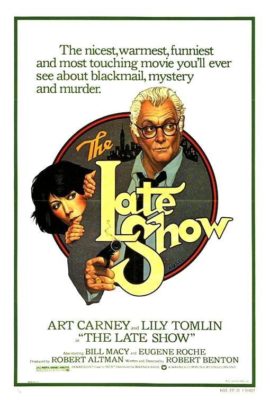 Benton, the co-writer of Bonnie and Clyde and What's Up, Doc?, had made his directorial debut in 1972 with Bad Company, starring Jeff Bridges. The Late Show was only his second film as director, and his third, Kramer vs. Kramer, the best picture winner of 1979, earned Oscars for Benton as both writer and director. He earned another Oscar for writing Places in the Heart in 1984. The tasty supporting cast of The Late Show includes Joanna Cassidy, Bill Macy, Eugene Roche, and John Considine, in addition to Duff.
After her hilarious work playing multiple characters on Rowan & Martin's Laugh-In and her Emmy-winning TV specials, Tomlin made her feature film debut in Altman's Nashville and earned an Oscar nomination. The Late Show was only her second feature.
Pauline Kael wrote, "If anyone else were playing Margo, she might be a mere kook; Tomlin makes her a genuine eccentric—she isn't just the heroine, she's the picture's comic muse."
Tomlin's later films include the hit comedy, 9 to 5, The Incredible Shrinking Woman, All of Me with Steve Martin, Flirting with Disaster, and Altman's final film, A Prairie Home Companion. She won a Tony award for her one-woman show, The Search for Signs of Intelligent Life in the Universe, and she has received three Emmy nominations for her performance in the current hit comedy series, Grace and Frankie, in which she appears with her 9 to 5 co-star, Jane Fonda. Tomlin has also been honored by the Kennedy Center and received the Life Achievement Award from the Screen Actors Guild.
THE LATE SHOW (1977) with Lily Tomlin in person screens Saturday, March 24, at 7:30 PM at the Ahrya Fine Arts Theatre in Beverly Hills. Format: DVD Click here for tickets.