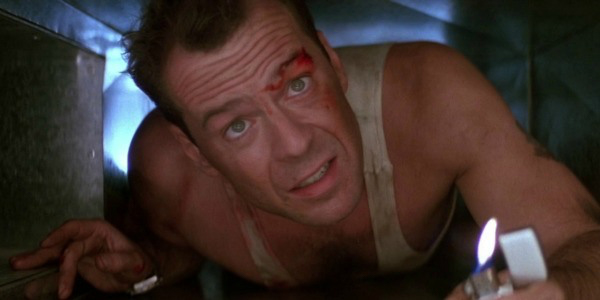 Laemmle Theatres and the Anniversary Classics Series present a 30th anniversary screening of one of the most popular modern action movies, DIE HARD, which made a movie star of Bruce Willis and set the template for many subsequent thrillers set in a confined space on a single day or night. The film was nominated for four Academy Awards, and in 2007, Entertainment Weekly named it the best action film of all time. In 2017 it was selected for inclusion in the National Film Registry.
Details:
Tuesday, March 6, at 7:30 PM at the Ahrya Fine Arts Theatre
Q&A with Co-Stars Bonnie Bedelia and Reginald VelJohnson
Plus, Screenwriter Steven E. de Souza
Format: DCP
Click here for tickets
Willis plays New York policeman John McClane, who travels to Los Angeles on Christmas Eve to try to reconcile with his estranged wife, who has taken a top job with the Nakatomi Corporation in a sleek new office building (actually the brand new Fox Plaza building in Century City). But he walks into a terrorist attack and has to use both brains and brawn to foil a gang of European thugs. John McTiernan directed the script by Steven E. de Souza and Jeb Stuart.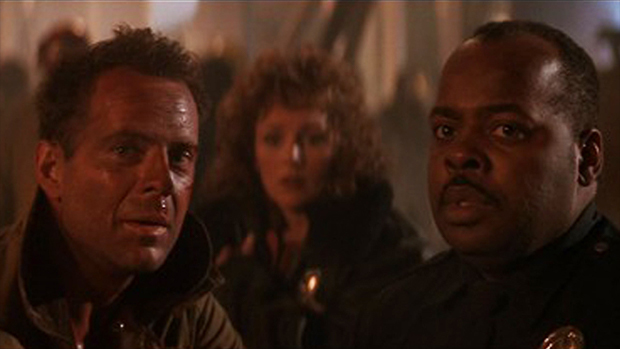 Acclaimed British theater actor Alan Rickman made his feature film debut as the leader of the terrorists, Hans Gruber, ranked as one of the greatest villains of all time by the American Film Institute. The excellent, eclectic supporting cast includes Bonnie Bedelia, Reginald VelJohnson, DeVoreaux White, James Shigeta, Alexander Godunov, Hart Bochner, and William Atherton. Leonard Maltin called the picture a "dynamite action yarn." The movie was a box office smash and spawned four sequels.
Oscar-winning director Brad Bird recently paid tribute to the film: "Hands down, the original DIE HARD is one of the greatest action movies ever made—it's relentlessly inventive, engaging and funny at the same time."
Bonnie Bedelia, who plays Holly McClane, started her film career with memorable roles in They Shoot Horses, Don't They? and Lovers and Other Strangers. She also co-starred in The Big Fix, Violets Are Blue, Presumed Innocent, DIE HARD 2, Sordid Lives, and earned rave reviews for her starring role in Heart Like a Wheel. She has appeared in many acclaimed TV movies and in the popular series The Division and Parenthood.
Reginald VelJohnson, who plays Sgt. Al Powell, the policeman who comes to McClane's aid, also reprised his role in DIE HARD 2. He appeared in many other films and TV series but is probably best remembered for his starring role in the long-running TV sitcom, Family Matters.
Screenwriter Steven E. de Souza also wrote 48 Hrs, The Running Man with Arnold Schwarzenegger, Ricochet with Denzel Washington, Beverly Hills Cop III, and Judge Dredd.