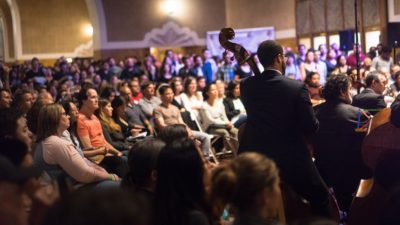 This is a Free Event
RSVP on Eventbrite
LAEMMLE LIVE proudly presents Kaleidoscope, Los Angeles' award-winning conductorless chamber orchestra. Benjamin Hoffman, Chiai Tajima, Alex Granger, and Clement Chow will perform the Bartok String Quartet 5 and Mozart Dissonance Quartet. Dedicated to enriching lives through concert experiences and artistic excellence, the orchestra makes profound connections with diverse communities of Los Angeles, performing music that speaks profoundly, whether written today or centuries ago.
About Kaleidoscope Chamber Orchestra
We stretch the boundaries for what is thought possible without a conductor, both by musicians and audiences, to allow us all to grow through the process. We regularly collaborate with living composers because their music represents our time. We design programs that explore less conventional concert experiences and allow audiences to feel more personally connected to music and the musicians who perform it. Kaleidoscope is committed to music education for all ages and is happy to offer a 'pay what you can' model to eliminate the barrier of a set ticket price. We want everyone in Los Angeles to have the opportunity to experience great classical music in person by a professional orchestra, think about what that experience means, and pay what makes them happy. We also perform many additional free concerts in schools, hospitals, shelters, and other underserved parts of our community. We recently started a music education program at a Title I elementary school in Culver City, providing music instruction to 100 first grade students each week. With additional funding, we are planning to expand this program to other grades and other schools in the future. Not only do we want every child in Los Angeles to love listening to music, we want every child to have the opportunity to read, play, and write music, too.
Event Details
Sunday, February 4, 2018
11:00 am
Monica Film Center
This is a Free Event
RSVP on Eventbrite