RSVP here
This is a free event!
Laemmle's Art in the Arthouse proudly presents THE CLAREMONT ART SHOW 2017! Please join us to celebrate our local artists in an intimate theatre setting. Our inaugural Claremont community show features a slide show on the big screen, artist talks, bagels, pastries, coffee and the conversation Art in the Arthouse is known for.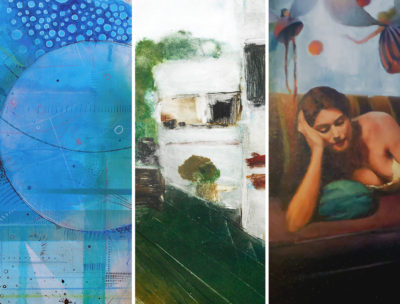 About the Exhibit:
COMMUNAL CROSSROADS
It is a time when forms are re-shaping, sometimes appearing shapeless altogether, when people search, then gather to form community. These samplings of the Claremont art community, reflect our disparate experiences, focus on what interests us, move us and take us to another world. Art in the Arthouse is proud to share this group of artists, as they deliver beauty, expose light and reveal anti-poetic moments.  The sun dappling the Sycamores, the Huntington Library in a moment of repose, a flood of colorful Hydrangeas, and the solidity of a parked Winnebago are a few images that emerge. Isolation and the Science of Geometry have wiggled their way in here, as well. One solitary figure, green, ghostlike, and another with eyes, full of pathos on a Sunday morning. A joyful dialogue of passionate interchanges and quality of expressions help return us to community.
 – Joshua Elias, Curator
Artist Reception:
Laemmle's Claremont 5
Sunday, September 17 11-3pm
Refreshments will be provided
RSVP here
This is a free event!