35th Anniversary Screening of MY FAVORITE YEAR (1982) Followed by a Q&A with Director Richard Benjamin, Co-stars Lainie Kazan and Joseph Bologna, and Producer Michael Gruskoff on Thursday, July 27, at 7:30 PM at the Royal. Presented on DVD.
Click here for tickets.
Laemmle Theatres and the Anniversary Classics Series present a 35th anniversary screening of the popular comedy, MY FAVORITE YEAR, which earned Peter O' Toole his seventh Oscar nomination for Best Actor. The year is 1954, and O'Toole plays an aging, dissolute movie star (a cross between John Barrymore and Errol Flynn) who creates havoc when he is hired as a guest star of a TV comedy series modeled on Sid Caesar's groundbreaking variety show.
Mark Linn-Baker plays a young writer on the show (said to be based on Mel Brooks), and the extraordinary cast also includes Jessica Harper, Joe Bologna, Lainie Kazan, Bill Macy, Lou Jacobi, and Cameron Mitchell, with Gloria Stuart in an unbilled cameo. Norman Steinberg and Dennis Palumbo wrote the screenplay, and Richard Benjamin made an impressive directorial debut.
Writing in The Hollywood Reporter, Robert Osborne said, "Benjamin keeps everything rolling merrily from start to finish." Variety's Todd McCarthy declared, "MY FAVORITE YEAR provides a field day for a wonderful bunch of actors headed by Peter O'Toole in another rambunctious, stylish starring turn." Peter Rainer of the Los Angeles Herald-Examiner touted the film as "a comic triumph" and added, "It's as jam-packed with invention and eccentricity as a Preston Sturges romp."
After shining as an actor in 'Goodbye, Columbus,' 'Diary of a Mad Housewife,' 'The Last of Sheila,' 'Westworld,' and 'The Sunshine Boys,' Richard Benjamin made a successful transition to directing with the film. He went on to direct such others as 'Racing with the Moon' with Sean Penn, Elizabeth McGovern, and Nicolas Cage, 'The Money Pit' with Tom Hanks, 'Little Nikita' with Sidney Poitier and River Phoenix, and 'Mermaids' with Cher and Winona Ryder.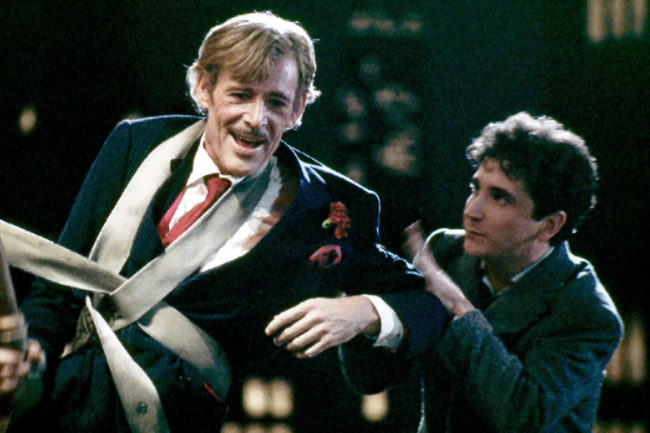 Lainie Kazan has had a long career as a singer as well as an actress. Her feature films include 'One from the Heart,' 'Beaches,' and the smash hit comedy 'My Big Fat Greek Wedding.' She co-starred in the TV series 'The Paper Chase,' 'The Nanny,' and 'Desperate Housewives.' She was nominated for a Golden Globe for her performance in 'My Favorite Year,' and Newsweek's David Ansen wrote of her performance, "Lainie Kazan as Benjy's mother poses a serious threat to Shelley Winters in the funniest-Jewish-Mama sweepstakes."
Joseph Bologna has worked as an actor, writer, and director. He earned an Academy Award nomination for co-authoring the screenplay of 'Lovers and Other Strangers,' which was adapted from the play he wrote with Renee Taylor. He and Taylor co-starred in other films they wrote, 'Made for Each Other' and 'It Had to Be You.' Bologna has also co-starred in such films as Neil Simon's 'Chapter Two,' 'Blame It on Rio,' 'The Woman in Red,' and 'Boynton Beach Club.'
Michael Gruskoff produced 'Young Frankenstein,' 'Silent Running,' and 'Pink Cadillac.' He won Cesar Award for 'Quest for Fire'.