Put the rubber to road and head on down to the Laemmle NoHo 7 because our #TBT series is going HOG WILD! Every Throwback Thursday in August, Laemmle and  Eat|See|Hear present some of our favorite biker classics! Doors open at 7pm, trivia starts at 7:30, and films begin at 7:40pm. It all starts Thursday, August 3rd with Director Richard Rush and HELLS ANGELS ON WHEELS! Check out the full schedule and guest appearances below!
August 3: Hells Angels on Wheels
A bunch of hairy guys on Harleys are causing trouble again in this, one of the best-remembered examples of the biker flicks of the 1960's. Poet (Jack Nicholson) is a moody gas station attendant who is looking for more excitement in his life. When a gang of bikers roars through town, Poet is intrigued, and after he pitches in to help the Hell's Angels in a bar fight (and pulls a well-timed stick up), one of the gang's higher-ups, Buddy (Adam Roarke) asks Poet to join. Director Richard Rush and actress Sabrina Scharf in person! BUY TICKETS.
August 10: Born Losers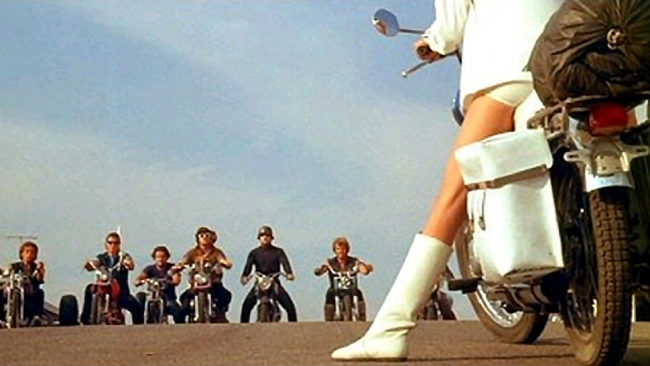 One of the first recognizable "vigilante" films in American cinema, The Born Losers tells the story of Billy Jack (writer-director Tom Laughlin), an ex-Green Beret and Vietnam veteran who makes it his business to rescue a cute mod girl from a crew of vicious bikers. Frank Laughlin (son of Tom Laughlin) and William Wellman Jr. in person!  BUY TICKETS.
August 17: Easy Rider
After scoring cocaine in Mexico, then reselling it in California, two bikers set off on a cross-country trek to New Orleans. Dennis Hopper, Peter Fonda, and Jack Nicholson star.  BUY TICKETS.
August 24: The Wild Angels
A gang of wild bikers, led by Heavenly Blues (Peter Fonda), cause havoc and destruction while paying tribute to a dead gang member, "Loser" Josey Kerns. Directed by Roger Corman and starring Peter Fonda, Bruce Dern, Diane Ladd, and Nancy Sinatra. BUY TICKETS.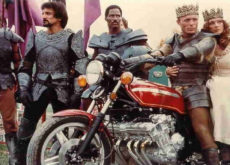 August 31: Knightriders
A hardcase motorcycle gang led by Ed Harris has found itself a neat money-making gimmick. Dressed as the knights of the round table, the cyclists pick up a few bucks at local "renaissance" fairs, selling handicrafts made by the more talented members of the gang. Harris' great rival is Tom Savini, who has his own band of "black knights." Keep an eye out for an unbilled appearance by novelist Stephen King. Directed by George A. Romero. BUY TICKETS.
Details about September #TBT screenings are coming soon. Remember to check www.laemmle.com/tbt for updates!