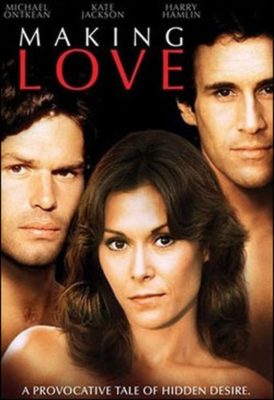 During Gay Pride month, Laemmle Theatres and the Anniversary Classics Series present a 35th anniversary screening of MAKING LOVE, the first major studio production to present gay characters and relationships in a positive light.
Join us on Saturday, June 24, at 7:30 PM at the Ahrya Fine Arts followed by Q&A with Screenwriter Barry Sandler, Author A. Scott Berg, and Co-star Harry Hamlin. Presented in 35mm. Click here for tickets.
Michael Ontkean plays a doctor married to a TV executive (Kate Jackson) but struggling with homosexual impulses. When he meets a liberated writer played by Harry Hamlin, he has his first gay romance, which transforms the lives of all three characters.
Oscar winner Wendy Hiller, Oscar nominee Nancy Olson, and Tony winner Arthur Hill co-star. The enormously influential film was written by Barry Sandler, from a story by A. Scott Berg, and directed by Arthur Hiller, the director of Love Story, Silver Streak, The In-Laws, and many other successful movies.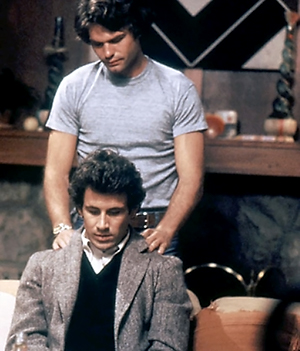 Barry Sandler wrote and produced the cult favorite, Crimes of Passion, starring Kathleen Turner and directed by Ken Russell. His other credits include Kansas City Bomber with Raquel Welch, The Duchess and the Dirtwater Fox with George Segal and Goldie Hawn, and The Mirror Crack'd with Angela Lansbury, Elizabeth Taylor, Rock Hudson, and Kim Novak.
A. Scott Berg is the Pulitzer Prize-winning biographer of Maxwell Perkins, Samuel Goldwyn, Charles Lindbergh, and Woodrow Wilson. He was also executive producer of the 2016 film Genius, which starred Colin Firth and Jude Law and was adapted from his biography of legendary literary editor Maxwell Perkins.
Harry Hamlin starred in the acclaimed TV series of the 1980s and 90s, L.A. Law, for which he earned three Golden Globe nominations. He also earned a Globe nomination for his feature film debut, Stanley Donen's Movie Movie. He starred in Clash of the Titans with acting legends Laurence Olivier and Maggie Smith. He was the star of the TV miniseries, Studs Lonigan, and had recurring roles on popular series Veronica Mars, Shameless, Glee, and Mad Men (for which he earned an Emmy nomination).