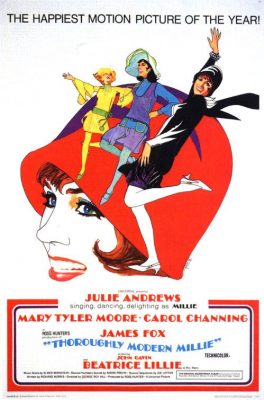 Laemmle Theatres and the Anniversary Classics Series present a tribute to Mary Tyler Moore with a 50th anniversary screening of THOROUGLY MODERN MILLIE (1967) in 35mm at 7:30PM on February 28, 2017 at the Ahrya Fine Arts. Click here to purchase tickets.
The musical romantic comedy, a spoof of the 1920s flapper era, stars Julie Andrews (at the height of her popularity), Carol Channing (Oscar-nominated for her role), Beatrice Lillie, John Gavin, James Fox, Pat Morita, Jack Soo, and Mary Tyler Moore.
Moore had just completed her role on television's "The Dick Van Dyke Show" the year before, and before embarking on her own groundbreaking series "The Mary Tyler Moore Show" in 1970, made several movies. THOROUGHLY MODERN MILLIE was the best of those 60s films, and a popular success in 1967. Moore would return to the screen in an Oscar-nominated performance in ORDINARY PEOPLE (1980).
Bosley Crowther in the New York Times called the film "A thoroughly modern burlesque of the manner and styles of flaming youth in the jazzy 1920s, of movie melodramas in the Silent days…it is a thoroughly delightful movie."
The film was nominated for 7 Academy Awards, including the title song, and won for composer Elmer Bernstein his only career Oscar in the original score category.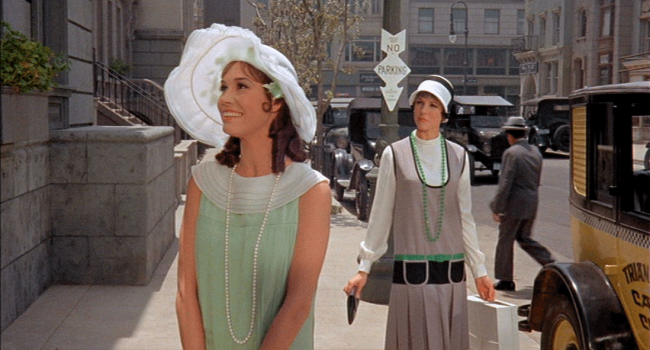 Directed by George Roy Hill from an original screenplay by Richard Morris and produced by studio era veteran Ross Hunter, the movie was one of the 60s' brightest musicals. It was later adapted for Broadway in 2000. Hill used it as a tune-up for his homage to another bygone era with the Oscar-winning THE STING in 1973.
THOROUGHLY MODERN MILLIE will show as a special tribute to the late actress Mary Tyler Moore on Tuesday, February 28 at 7:30 PM at the Ahrya Fine Arts in Beverly Hills. We will screen in 35mm as a special presentation.
For more about our Anniversary Classics Series, including an upcoming screening of WHAT EVER HAPPENED TO BABY JANE, visit www.laemmle.com/ac and join our Facebook Group.