The Laemmle Foundation presents LAEMMLE LIVE, a new performing arts series at the Monica Film Center. Emerging artists and professional performers from local schools and organizations will celebrate our diverse community with live performance.
In our inaugural year, LAEMMLE LIVE's free monthly Sunday morning performances will turn the Monica Film Center's mezzanine lounge into a salon style venue and serve as a potential pilot for live performance programs at other Laemmle locations throughout Los Angeles — delivering an alternative community arts experience — inviting our Los Angeles neighbors into our Laemmle living room.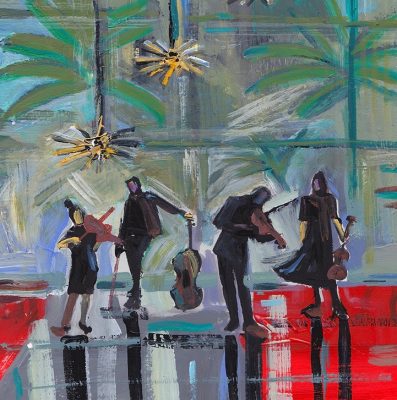 LAEMMLE LIVE'S first concert will feature musicians from Santa Monica High School's Chamber Orchestra on January 22, 2017.
Future program partners include Lincoln Middle School, SO-LA Music Academy, Street Symphony, McCabe's Guitar Shop and Elemental Music.
LAEMMLE LIVE will be a place for cultural intersection and engagement with social issues that matter to the community. Mindful that Santa Monica can be a place where privilege lives next door to a growing homeless population — LAEMMLE LIVE invites high school performers to inspire underserved neighbors and welcomes Street Symphony musicians who state "…we bring music to lift up the brave stories and voices of people who, although living in an impoverished situation, are in no way impoverished in spirit."
"Live performance is a natural sequel to ART IN THE ARTHOUSE, a program that delivers a unique art-viewing experience by reclaiming wall space throughout our theaters for the display of fine art." says Greg Laemmle, Laemmle Theatres President.
Winter-Spring
2017 Calendar
Sun Jan 22, 2017 11 AM — Samohi Chamber Orchestra
Joni Swenson, Jason Aiello, Directors
Sun Feb 5, 2017 11 AM — Sol-La Music Academy Chamber EnsembleMargaret Lysy, Founder and Artistic Director
Sun Mar 5, 2017 11 AM — Lincoln Middle School Madrigal Singers
Vanessa Counte, Director
Sun Apr 30, 2017 11 AM — Street Symphony
Vijay Gupta, Founder and Artistic Director