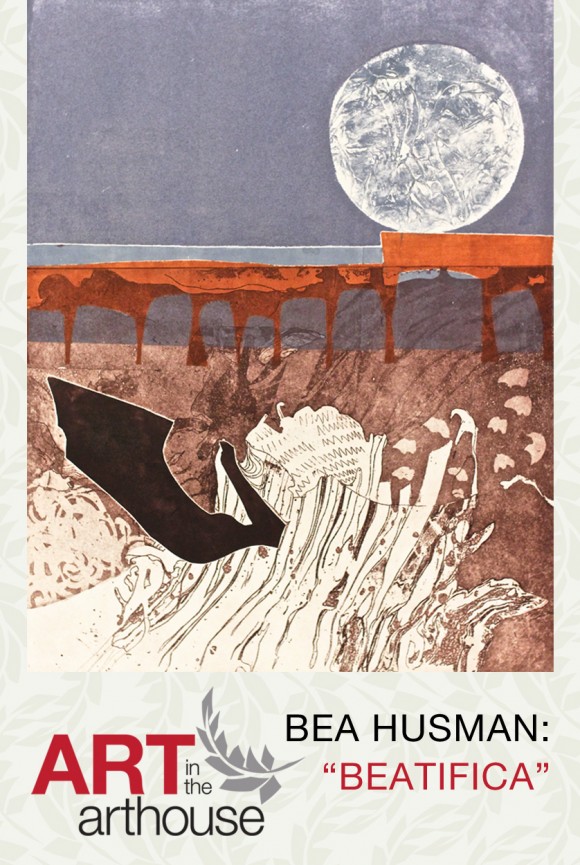 Join us for the NoHo 7's first art gallery opening and the second installment of Laemmle's ART IN THE ARTHOUSE program!  At select Laemmle Theatre locations, you'll soon be enjoying fine works by visual artists in our lobbies and on your way to the auditorium.
BEA HUSMAN: BEATIFICA opens this coming Wednesday, February 26, 6-9pm.  To join us for the opening celebration, RSVP HERE.
This extraordinary exhibit uncovers the work of BEA HUSMAN (1915-2011), an iconoclast who translated her world travels into inspired artworks in a variety of media. Rarely exhibited during her lifetime, Husman produced art for the sheer pleasure of it, resulting in a legacy unsullied by the marketplace and a body of work that exudes joy and lyricism.
Husman, a fashion designer turned artist, discovered the Intaglio process in the 1970s and soon a printing press and metal plates for etching and engraving became part of her studio, alongside large easel, oil, and acrylic paints. In turn, this led to an interest in paper-making, and, circa 1980, Husman made her way to Kyoto, Japan for a paper-making class with DAVID HOCKNEY. Upon her return, she began utilizing both paper and print making disciplines to create breathtaking collage pieces that incorporated fabrics, string, torn sections of prints, found objects, and coarse, handmade papers.
As she matured as an artist, Husman exhibited an uncanny ability to weave together her myriad influences, including explorations of remote cultures, to create pieces of increasing sophistication.  She died in 2011 at 96. leaving  a treasure trove of never-before-seen work for the public to discover.
—————————————-
About ART IN THE ARTHOUSE:
Art in the Arthouse is the brainchild of Laemmle president, Greg Laemmle. Switching to digital poster frames conserves both paper and wall space, creating the opportunity to extend the cultural scope of our theaters to include the visual fine arts.
By reclaiming wall space throughout our theaters for the display of fine art, patrons will have a chance to bond with notable and emerging L.A. based visual artists and their work. Proceeds from the sale of art benefit the activities of the Laemmle Charitable Foundation.