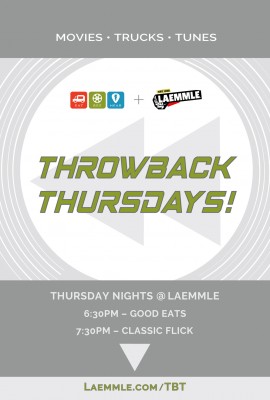 We've joined forces with EAT|SEE|HEAR for a special THROWBACK THURSDAY film series with movies, music, and food trucks every Thursday night at one of our venues!
The current slate of films are hand-picked classics that are paired to upcoming major Hollywood releases.  Think 2001: A Space Odyssey vs. Terminator; Innerspace vs. Ant-Man; Raging Bull vs. Southpaw.
Not only do you get to see these gems on the big screen and listen to a curated music playlist while you wait, but you can also bring your gourmet Food Truck grub inside the theatre!  How cool is that?
The latest schedule is:
2001: A SPACE ODYSSEY (1968)
Thursday, July 2
@ NoHo 7
Food Truck Arrives 6:30pm
Film Begins 7:30pm
Why? For those who can't get enough of killer machines, there's TERMINATOR GENISYS. And then there's the iconic Kubrick film that started it all. All we can say is 'Do you read us H.A.L.? Open the theatre doors…'
THE TRIPLETS OF BELLEVILLE (2003)
Thursday, July 9
@ Royal
Food Truck Arrives 6:30pm
Film Begins 7:30pm
Why? Taking the kids to see Universal's MINIONS? Consider adding a delicious French appetizer to the summer animation menu. When her grandson is kidnapped during the Tour de France, Madame Souza and her beloved pooch Bruno team up with the Belleville Sisters–an aged song-and-dance team from the days of Fred Astaire–to rescue him.
INNERSPACE (1987)
Thursday, July 16
Food Truck Arrives 6:30pm
Film Begins 7:30pm
Why? Paul Rudd's ANT-MAN is the latest Marvel hero to save the universe, using the ability to shrink to the size of ant while gaining the proportional strength, but Dennis Quaid was there first. Martin Short plays a hapless store clerk who must foil criminals to save the life of a man (Quaid) who, miniaturized in a secret experiment, was accidentally injected into him. Winner of the Oscar for Best Visual Effects. Directed by Joe Dante (GREMLINS).
RAGING BULL (1980)
Thursday, July 23
@ NoHo
Food Truck Arrives 6:30pm
Film Begins 7:30pm
Why? SOUTHPAW looks to be the latest good boxing movie, but there's little doubt that the champion of the genre is Martin Scorcese's RAGING BULL. The story of Jake LaMotta, a former middleweight boxing champion, whose violence and anger brought him success in the ring but destruction outside it. "Though RAGING BULL has only three principal characters, it is a big film, its territory being the landscape of the soul." (Vincent Canby, New York Times)
RISKY BUSINESS (1983)
Thursday, July 30
@ NoHo
Food Truck Arrives 6:30pm
Film Begins 7:30pm
Why? Sometimes "star-making turn" is not a cliché. In RISKY BUSINESS plays a Chicago teenager looking for fun at home while his parents are away, but the situation quickly gets out of hand. Before seeing the latest iteration of the MISSION: IMPOSSIBLE franchise, see where it all began.
Each night will feature a themed FOOD TRUCK for patrons to grab dinner and a movie! For instance, a truck serving French cuisine (frog legs) may accompany a screening of The Triplets of Belleville. All movie-goers (not just those attending Throwback Thursday) will be allowed to bring food truck items inside the venue.
With respect to the "Hear" aspect, patrons will relax inside the auditorium to playlists specifically curated for each event as they wait for the program to start. What's more, on certain occasions, celebrities connected to the film will be on hand to make a special presentation or stay afterward for a Q&A.
Tickets and more info will be available at http:/EatSeeHear.com/TBT
Tickets are $12 and may be purchased online at http://www.laemmle.com or at the theater. As with regular screenings, discounts are available for children, seniors, and Laemmle Premiere Card holders.
*Venues and movies subject to change – check http://www.eatseehear.com/tbt or www.laemmle.com for possible updates to the schedule.
Typical Event Schedule
· 6:30pm – Food Truck Arrives
· 7:30pm – Movie begins
For more information about the #TBT series, guests are encouraged to visit the Eat|See|Hear website or Laemmle website as well as the Eat|See|Hear Facebook page, Twitter feed (@EatSeeHear) and Instagram for the latest updates.