Sex, drugs, power, and vice: welcome to the mid-2000s Italy of Silvio Berlusconi, the egomaniac billionaire Prime Minister who presides over an empire of scandal and corruption. Sergio (Riccardo Scamarcio) is an ambitious young hustler managing an escort service catering to the rich and powerful. Determined to move up in the world, Sergio sets his sights on the biggest client of all: Berlusconi (Toni Servillo), the disgraced, psychotically charming businessman and ex-PM currently plotting his political comeback. As Berlusconi attempts to bribe his way back to power, Sergio devises his own equally audacious scheme to win the mogul's attention. Exploding with eye-popping, extravagantly surreal set-pieces, the dazzling, daring new film from Academy Award-winning director Paolo Sorrentino (The Great Beauty) is both a wickedly subversive satire and a furious elegy for a country crumbling while its leaders enrich themselves.
DIRECTOR'S STATEMENT:
Loro, a film in two parts, is a fictional story, a sort of costume drama, which narrates probable or invented facts that took place in Italy, between 2006 and 2010.
Using a variety of characters, Loro seeks to sketch, through glances or intuitions, a moment of history – now definitively closed – which, in a very synthetic vision of events, might be defined as amoral and decadent, but also extraordinarily vital.
And Them [Loro] also seeks to describe certain Italians, simultaneously new and old. Souls in an imaginary, modern purgatory who decide, on the basis of heterogeneous impulses such as ambition, admiration, love, self-interest, personal advantage, to try to revolve around a sort of paradise in flesh and blood: a man by the name of Silvio Berlusconi.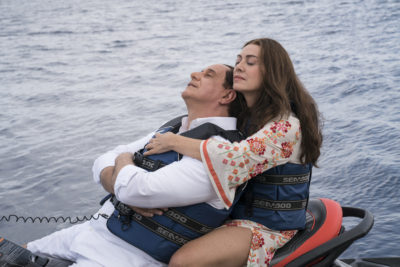 These Italians, to my eyes, contain a contradiction: they are predictable but indecipherable. A contradiction which is a mystery. An Italian mystery which the film tries to deal with, but without being judgmental. Inspired only by a desire to understand, and adopting a tone which today, rightly, is considered revolutionary: a tone of tenderness.
But here comes another Italian. Silvio Berlusconi. The way I imagined him.
The story of the man, above all, and only in a marginal way of the politician.
Someone might object that we know plenty not only about the politician, but also about the man.
I doubt that.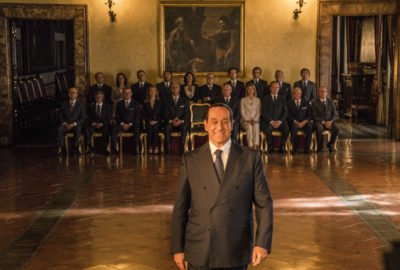 A man, as far as I am concerned, is the result of his feelings more than a biographical total of facts. Therefore, within this story, the choice of facts to be recounted does not follow a principle of relevance dictated by the news agenda of those days, but only tries to dig, groping in the dark, in the man's conscience.
What, then, are the feelings that stimulated Silvio Berlusconi's days in this period? What are the emotions, the fears, the delusions of this man in dealing with events that appear to loom like mountains? This, for me, is another mystery the film deals with.
Men of power in the generations before that of Berlusconi were other mysteries, because they were unapproachable. Remember there was a time when we spoke of the disembodiment of power.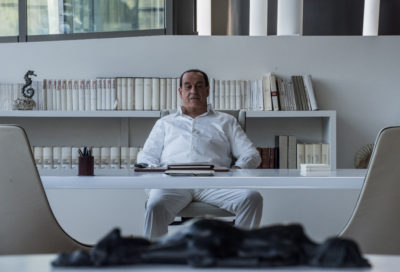 Silvio Berlusconi, instead, is probably the first man of power to be an approachable mystery. He has always been a tireless narrator of himself: think, for example, of the picture story Una storia italiana that he had sent to everyone in Italy in 2001, and for this reason too he inevitably became a symbol. And symbols, unlike mere mortals, are public property. And therefore, in this sense, he also represents a part of all Italians.
But, naturally, Silvio Berlusconi is much more. And it is not easy to provide a synthesis. For this reason I have to appeal to a much better man than me: Hemingway.
In The Sun Also Rises, Hemingway writes: "Nobody ever lives their life all the way up except bullfighters." Paraphrasing things, perhaps the most concise image we can have of Silvio Berlusconi is that of a bullfighter. ~ Paolo Sorrentino