Check out this excellent piece by Renee Ghert-Zand in The Times of Israel:
Award-winning Israeli doc on camera-hungry Nazi Albert Speer opens in NYC and L.A.: In 'SPEER GOES TO HOLLYWOOD,' Vanessa Lapa uses uncovered audio and never-before-seen archival images to show how Hitler's confidant tried to make a movie to whitewash his past.
[SPEER GOES TO HOLLYWOOD director Vanessa Lapa and producer Tomer Eliav will participate in Q&As on Friday and Saturday, November 5 and 6 after the 7:20 pm shows at the Royal and Saturday and Sunday, November 6 and 7 after the 1:40pm shows at the Town Center.]
In her lauded 2014 documentary film, "The Decent One," filmmaker Vanessa Lapa used SS leader and Final Solution architect Heinrich Himmler's private family letters to expose just how deep his evil ran.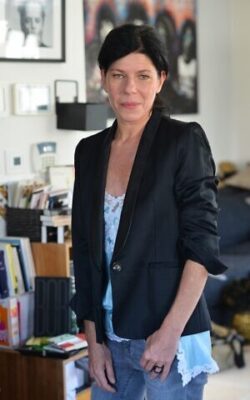 Now she is again using a top Nazi's words against him — this time with audio recordings made by Hitler's chief architect and minister of armaments, Albert Speer, as he worked on a script for a feature film based on his blockbuster 1970 memoir, "Inside the Third Reich."
In her new film, SPEER GOES TO HOLLYWOOD, Lapa shows just how cunning the manipulative Speer was in whitewashing his crimes, which included enslaving 12 million Jewish, Polish and Soviet prisoners and forced laborers — at least a third of whom died of starvation, injury, or exhaustion — to produce German armaments during World War II. Creating a reputation for himself as "the good Nazi," he was sentenced to only 20 years in prison at the Nuremberg Trials, while his co-conspirators and subordinates went to the gallows.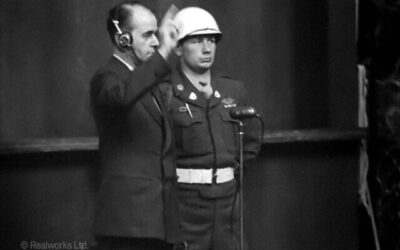 Speer spent his time in prison writing extensive notes for his memoir on paper napkins, and charmed sympathetic guards who illegally smuggled them out of prison for him.
Still buzzing with excitement from the film's having won the 2021 Ophir Award for best Israeli documentary film earlier this month, Lapa recently spoke to The Times of Israel from her Tel Aviv studio, as she geared up for the United States theatrical release of SPEER GOES TO HOLLYWOOD. The film opens in New York on October 29 and in Los Angeles on November 5 [at Laemmle's Royal and Town Center theaters].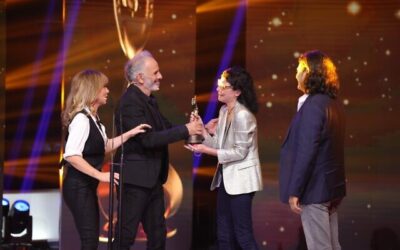 As with Himmler's letters, the 46-year-old, Belgian-born Lapa stumbled upon Speer's recordings serendipitously. At a 2014 screening for "The Decent One" at New York's Film Forum, a lawyer named Stanley Cohen approached her and told her that he had bought the film rights to the English edition of Speer's "Inside the Third Reich," and had approached Paramount Pictures in 1971 about making a movie based on it.
Paramount commissioned the British writer Andrew Birkin, a protégé of the director Stanley Kubrick, to develop a script. To do so, Birkin, then only 26 years old, traveled to Heidelberg to interview Speer. (By that time, after being released from prison in 1966, Speer was living comfortably in the German countryside and making frequent media appearances.)
Cohen did not know that Birkin had recorded his conversations with Speer, but Lapa discovered that there were 40 hours of tapes recorded in 1971-1972, when she went to visit Birkin in Wales in February 2015.
"After Andrew played me five minutes of the tapes, it was clear to me I wanted to hear all of them and make a film with them," Lapa said.
According to the filmmaker, Birkin wanted the recordings to be used, and was happy to hand them over to her.
"He had never listened to them again in the last half-century, but he did digitize them at some point in an effort to preserve them," Lapa said.
On the tapes, Speer and Birkin are heard discussing various scenes from a draft script for the possible Paramount project. It is clear that this was to be a scripted drama, and not a documentary.
"It must be very far away from a documentary. The farther away, the better it is," listeners hear Speer saying.
Birkin speaks about the need to have the audience identify with Speer, the "hero," in the first five minutes of the film. The notion of an audience identifying with a person responsible for the enslavement and murder of millions of people may be shocking today, but in the early 1970s people were enthralled with Speer's book, in which he positioned himself as an impressionable young Nazi leader who really cared about the German people.
In a 2017 New Yorker piece, Nigerian writer Chimamanda Ngozi Adichie, reflected on why she was so taken with "Inside the Third Reich" as a child, but so disgusted by it 30 years later.
"Speer demonstrates a slick honesty whose goal is to disarm. If it disarmed me as a child, it repels me as an adult. His rueful acknowledgment of his dedication to Hitler, and his philosophical puzzlement at his own complicity, seeks to cast a glaze of innocence over him," Adichie wrote.
"…[Speer] with calm canniness, assembles his follies in flattering light. His self-criticism has a too-smooth edge; it is as though he has considered all possible criticisms he might face and taken them on himself, and there is an egotistical undertone to this that is perverse," she continued.
According to Lapa, "Inside the Third Reich" still sells 2,000 copies a year.
"It is mind blowing that there is still no preface in the book that puts it in context for today's readers," she said.
In Lapa's film, we hear Birkin checking in with a mentor, who warns him that the script he is working on with Speer is a whitewash, especially with regard to Speer's denial of knowing about Auschwitz and the Final Solution. But Birkin seems unconcerned.
"I think Birkin did his best. Was he gullible? He was young and it was a time when people knew less about the war and the Holocaust than we do now," Lapa said.
"Speer managed to charm and manipulate Birkin, just like he charmed and manipulated everyone, including the judges at Nuremberg. Even Speer's biographer Gitta Sereny believed his regret," she said.
By contrast, Lapa, who was initially also under Speer's sway, found extensive archival documentation to contradict Speer's claims. It led her to see his regret as completely disingenuous and to call him out on his historical lies.
"What I found was a man for whom human life had no intrinsic value…We also see this from the fact that he convinced Hitler to prolong the war by two-and-a-half years, when he knew that Germany was losing." Lapa said.
Lapa and Joëlle Alexis wrote the script for SPEER GOES TO HOLLYWOOD, based on the 40 hours of the uncovered audio, and then Lapa and her team spent several years doing extensive archival research to find still and moving images to match and juxtapose with the audio.
The dissonance between the lies of the audio and the truths of the images is powerfully effective. Although actors lend their voices to Speer and Birkin because the quality of the original recordings were not good enough to use, Lapa assured The Times of Israel that every word is uttered verbatim from the tape's exact transcripts.
Lapa is passionate about using only preexisting material, which she lets tell the story. Her films have no narrators, talking heads, or newly shot footage.
"When you have such an amount of archival material to show to the world, it is a waste not to do so," the filmmaker said.
Realizing that Speer was trying to play fast and loose with the facts and truth, Paramount ultimately decided not to greenlight the film based on the Nazi's memoir.
"Had this film been made, it would have rewritten the history of a historical injustice and transformed its villain into its unchallenged hero," Lapa said.
Speer maneuvered to avoid the death sentence at Nuremberg and passed away a free man in 1981 at age 76. Forty years later, Lapa, with her incisive film, has let him hang by his own rope.