The summer of 2021 is over but not at the movies. Rialto Pictures' restoration of Jacque Deray 1969 crime-romance has proven irresistible to cinephiles looking for something sexy, decadent, French, and from another time. We're happy to bring it back for another fling.
Glynnis MacNicol wrote a terrific piece for the New York Times last month examining the film's success, headlined "A Steamy French Thriller Is a 'Sleeper Smash Hit;' The 1969 film LA PISCINE was supposed to run for two weeks at New York's Film Forum, but it's been extended to the fall." Here's an excerpt:
"For the past 14 weeks at Film Forum, a longstanding independent and repertory theater on West Houston Street in Manhattan, the 1969 French film LA PISCINE has been playing — a run that has extended its initial engagement by 12 weeks, and counting.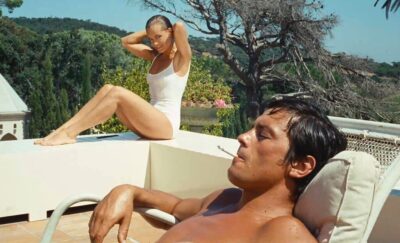 "Rear Window, 8 ½, La Strada and a popular Humphrey Bogart series that included Casablanca have all come and gone, but LA PISCINE swims on.
"If there is a film of New York's 2021 summer, this may be it.
"LA PISCINE (which means "The Swimming Pool") revolves around Jean-Paul (played by Alain Delon) and Marianne (Romy Schneider), who have retreated to a house with a large pool outside St. Tropez.
"Sadly, he only gets one month of vacation. The lovers are unexpectedly joined by Harry (Maurice Ronet), Marianne's former paramour and Jean-Paul's former best friend, and his 18-year-old daughter, Penelope (Jane Birkin). Much decadence and extremely French crossover love ensues."
You can read the rest of the piece here (spoiler alert!) but better yet, come take a dip in LA PISCINE again or, if you haven't yet gotten wet, come on in, the water's fine!
"Icily erotic! Seething passion and emotional chaos lie beneath the symbolically placid surface of the villa's swimming pool, which becomes the site for both seduction and violent revenge." — Dave Kehr, The New York Times
"Romy Schneider's crowning cinematic moment, where she delivered her most enchanting onscreen performance." — Manon Garrigues, Vogue Paris
"Erotic languor turns gradually into fear and then horror in this gripping and superbly controlled thriller…The pool is a primordial swamp of desire, a space in which there is nothing to do but laze around, furtively looking at semi-naked bodies." — Peter Bradshaw, The Guardian
"Set in a to-die-for villa in the verdant hills overlooking Saint-Tropez, this icily elegant pas de quatre involves four of the most outrageously photogenic actors to ever appear on screen… We sit and revel in the glamour of it all, waiting for those hormonal and homicidal impulses to boil over – as, of course, they do." — David Melville, Senses of Cinema
"Pretty people behaving poorly in beautiful settings is something we don't see as much of in cinema as we used to. This is a master class in the subgenre, and one of unusual depth." (Glenn Kenny, New York Times)