French filmmaker Mia Hansen-Løve's latest, BERGMAN ISLAND, follows a couple of American filmmakers, Chris (Vicky Krieps) and Tony (Tim Roth), who retreat to the mythical Fårö island for the summer. In this wild, breathtaking landscape where Bergman lived and shot his most celebrated pieces, they hope to find inspiration for their upcoming films. As days spent separately pass by, the fascination for the island operates on Chris and memories of her first love resurface. Lines between reality and fiction progressively blur and strain the couple.
We open the film October 15 at the Claremont, Playhouse and Town Center, October 22 at the Glendale and Newhall, and October 29 at the Monica Film Center.
"I felt a new reverence for Hansen-Løve's talent — she sweeps you up and brings the movie to a slow boil." (Variety)
"Among other things, BERGMAN ISLAND is an ode to a female artist's freedom to derive creative inspiration and sustenance where she chooses." (Hollywood Reporter)
"A beautifully shot portrait of Bergman's beloved island of Faro, the film is also a self-reflexive jeu d'esprit about gender, desire, creativity and the magic of cinema." (Screen Daily)
Interview with writer-director Mia Hansen-Løve:
Do you believe in the power of landscapes?
I do – and that's one of the things that drew me to Fårö. Oddly enough, these Swedish landscapes remind me those of Haute-Loire that I shot in Goodbye First Love. The happiness I felt in Fårö brings to mind childhood and teenage memories, although these are very different landscapes – the Baltic Sea on the one hand, Ardèche and the Loire River source on the other. But what they have in common is a wild, pristine quality, a silent atmosphere that invites you to a kind of meditation and that left an impression on my imagination.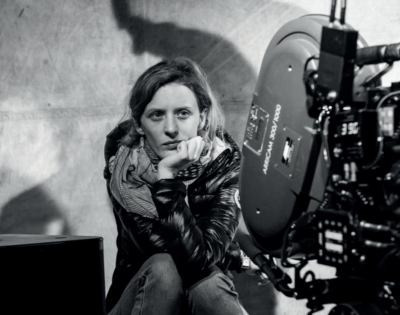 Is nature an inspiration to you?
It always has been. The pleasure, the emotion you feel when watching nature can easily go hand in hand with a character's journey and inspire fiction in me. A landscape may trigger my writing – especially when I feel it's haunted. That's what happened with BERGMAN ISLAND. I felt drawn to this physical place, which is also a mental, inner place, naturally.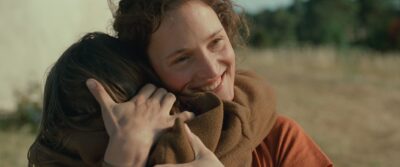 The film is two-fold – it's a film about love for cinema, and Bergman particularly, but also about a double love story. Why did you build the film like this?
I didn't go about it theoretically – it just came to me as an obvious choice. BERGMAN ISLAND is probably my first film that somehow got written "all by itself", without the pain I usually feel during the writing process. I felt like doors that had been locked so far were opening and that the island made it possible. For the first time, I felt I had the freedom to move playfully between different dimensions – past, present, reality within fiction or fiction within reality… The construction comes from the subject matter that could come down to two interconnected questions – that of couples and that of inspiration. When you deal with a filmmakers couple, how much of their dynamic is based on loneliness and how much on camaraderie? Where does fiction come from? How does it find its way into a script? I'd been wanting to make a film about this but it's only when I thought of bringing these two filmmakers to Fårö and of using landscapes and Bergman's world as a backdrop that the project came together. And as I decided to work from there, moving in one of Bergman's houses and somehow experimenting the film I was writing, I found the structure – in other words, the two parts, a glimpse into the heroine's film-in-the-making, a painful first love experience without closure inspiring filmmaker Amy's writing, the subsequent episodes that you can't tell which part of the narrative they belong to – past or future, reality or fantasy… This confusion echoes my own writing process. I sometimes feel like filmmaking allows me to recreate memories that tend to substitute for the reality that inspired them.

Why did you pick Fårö?
On account of Bergman, naturally. Some ten years ago, I began developing a passionate relationship with his work, his life… I began feeling magnetically drawn to the island. Bergman directed some of his most famous films there and spent the last years of his life there. Remotely located in the middle of the Baltic Sea, the island embodies an ideal both terrifying and attractive, austere and exciting – it's the ultimate place of absolute artistic integrity that I associate Bergman with. After he died in 2007, a book was published for the auction sale of his properties and all that they contained – it was Bergman's will, considering it was impossible to divide his properties among his nine children. I held this book in my hands. The pictures of his paintings, of the rooms of his houses, of his objects echoing his everyday life didn't make his work any less fascinating – all these things, whether highly personal or trivial, only added to the aura and the mystery of an island haunted by his work and his presence. And increased my desire to venture there… Luckily, Bergman's legacy hasn't been scattered. All of it was bought out at the last minute by a Norwegian businessman. He brought back all the objects into the houses, putting them each back where they belonged. He then started a Foundation with Linn Ullmann (Bergman's and Liv Ullmann's daughter) allowing artists and researchers from all walks of life, just as Bergman wished, to stay in one of the latter's houses and work on a project that doesn't necessarily have to be connected to his work. As far as I know, I'm the only one who worked on a script that is directly related to Bergman.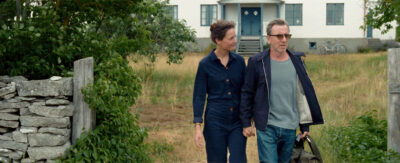 You said that you enjoyed the writing and the shooting as never before. Can you be more specific?
BERGMAN ISLAND is actually a film that, despite a few incidents, brought me unprecedented joy. Fårö was, and still is, a magical place. I've been there every year since 2015 to write, prep, and shoot, without ever tiring of it. I'd never been so elated as I prepped for a movie. First, I absolutely relate to the island's timeless landscapes, stone walls, wildflowers, black sheep, countless birds. To the island's harshness and silence. And I didn't feel like Bergman's presence was overwhelming, but it turned out to be both soothing and stimulating instead. Does it have to do with the fact that I'm not a genius able to make sixty films and have nine children? In no way have I ever felt in competition with Bergman. Although my film touches on the passion of filmmakers for his work, I've never tried to imitate it. I've always sought to do my own thinking, to find my own voice, and let myself be immersed in the films that I grew up with.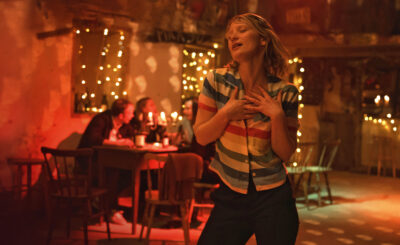 Although the film is not about Bergman, the latter's presence is palpable through the film's mood, which raises very interesting issues, including the working of our imagination – it's clear that our perspective on certain landscapes or places may be entirely shaped by how a filmmaker like Bergman has influenced it. Does our imagination belong to us or is it also shaped by films?
That's what the film's about – how a fantasy leaves such a mark on a place that it shapes our perspective on it. As the lady guide explains, Bergman's Fårö Island existed before the actual Fårö. Bergman fell in love with the place because it echoed a landscape that had been on his mind for some time. But his Fårö is a rougher place than the one I discovered as I got to the island. Most importantly, he explores faces, and with him, you hardly see the actual places, the horizon or the sky, which have such an intense presence on the island. Bergman's Fårö is a mental construct that tells about his obsessions and inner demons. So, when you're there, this Fårö is both everywhere and nowhere…
It's actually what the film addresses – the Bergman diehards featured in the film are desperately seeking for a Bergmanian place that, by nature, is nowhere to be found.
It's an impossible quest. But that's also how I made the place my own, without being a prisoner of it. In this respect, going for the scope format, which Bergman had never used, was key. I'd only shot in this way for Eden as I don't usually trust the format. In the end, what convinced us, Denis Lenoir, my cinematographer, and me, was that we could have a different perspective on the island. This format best did justice to what impressed me the most – the endless sea and sky, the very small number of houses, people, trees even – in essence, the void. Actually, the scope format came as an obvious choice at some point, but I experienced this option as a liberation. And really, the film's about this liberation. BERGMAN ISLAND is an emancipation story. It's about emancipation from our masters, but also about a woman's emancipation from a man. It's what the Chris character, who considers herself as vulnerable and dependent, finds out about her own creative force.
However, Chris must also free herself from the man she lives with in order to find her freedom…
If they must break up, then it should happen once the film is over. As a rule, I need to feel an off-screen space to be able to believe in my characters' lives. If the film ends with closure, I don't believe in their existence as much as if a sequel remained to be written… You may think the journey of this couple is bound to end, but what I was interested in was to show that there's still some understanding between them. How can they journey on together, in spite of what drives them apart, of a gap widening because of their respective fictions? It all hangs by a thread, but it's still there…
Chris seems to come to terms with Tony's sometimes unpleasant attitude…
You can tell this couple's connectedness and intellectual camaraderie are strong – they have an experience together. Besides, they have a child. But it's not easy for an artist couple to find the right balance between dialogue and sharing that are desirable, on the one hand, and necessary loneliness, on the other. You need to accept to stay outside the mental space that only belongs to your partner. Some intimate things can only be entrusted to fiction – some confessions can only be made through it. Which may cause some pain – how can you figure out what is said, what is left unsaid? This echoes a more universal question – how well do you know the person you live with? When Chris lays claim to the mill, next to the main house, as her office, it points to her ambivalent relationship with Tony's filmmaker self. It's far enough for her to have a chance to forget about him and take hold of the place, and close enough to be able to sense him and watch him through the window… His own relationship to writing doesn't seem to be as complicated, and he doesn't seem to have to confide his doubts. But you can wonder if Tony's resilience isn't only shallow and if, deep down, his imperviousness isn't a smokescreen for even greater vulnerability. Regardless, I don't judge either of my two characters – I just bear witness to what they experience, to what happy and unhappy moments come out of it, and to what my heroine must do to come out on top. The film is about how something unlocks in Chris, how she embraces fiction, imagines a film – a film in the making that's originally called The White Dress but that could also be named Bergman Island in the end…
"Coming out on top," that's just what happens throughout the film. You could think the film also portrays the awakening of self-confidence, of a calling you must pursue…
I'm obsessed with callings, and most of my films deal with them. But BERGMAN ISLAND goes about it in the most straightforward way – for the first time, it's about a woman filmmaker. And even two, actually – Amy, Chris's double in the fiction, does the same job. It's a way for Chris to own up to the fact that in film, her life can inspire fiction, and that fiction can reflect life, like a ping-pong game, or two parallel mirrors reflecting the same story endlessly. This has always been my writing process and I thought it was exciting to try and portray it. To me, BERGMAN ISLAND is the culmination of a thinking process I began in my first film.
Can you tell us about the cast?
For a long time, Greta Gerwig was attached to the role of Chris. At the time, she hadn't directed her first film yet. But reality surpassed fiction as Greta became a filmmaker in the meantime. Because of her commitment to Little Women, she had to say 'no' to my film as our shooting schedules overlapped. When Greta left the project, we were two months away from the shoot, in May 2018. She suggested I wait for her for a year, but if I delayed the shoot, I might lose Mia Wasikowska and Anders Danielson Lie, two actors I just love and without whom I couldn't possibly consider doing the film! With my producer Charles Gillibert, we made a risky decision – especially for him – but which, I think, was the right one: we'd shoot half the film during summer of 2018 with Mia and Anders, and the second half the following summer. Luckily it didn't take me too long to come up with a new idea for Chris. I'd just discovered Vicky Krieps in Paul Thomas Anderson's Phantom Thread, and I'd found her wonderful. Although she was unknown at the time, she stole the show from Daniel Day-Lewis. Her being half-German, half-Luxembourgish could give a European flair to the character, which I found interesting. In less than twenty-four hours, her name came as an obvious choice. Fortunately, she was available and, a few weeks later, Vicky was shooting her first scenes with us… Tim Roth joined the cast only the following year. Finding the right actor for this role was much more challenging. In the beginning, I could only consider an American actor for the role. And then I thought of Tim Roth. Not so much for his famous performances, his manly image, but rather for what eludes him, something almost feminine about his presence, far from the tough guys he likes to portray. There's something both dark and fragile, something complex, about him that I like. Besides, Tim made The War Zone, a painful, challenging film – he has it in him and I think it shows. Shooting the film over two periods of time was a unique experience, we've tried to look at the whole thing with humor, to play with it, as in a balancing act…
Do you intend to go back to Fårö one day?
I'll go back to present the film anyway when we can travel again. I owe a lot to some islanders and keepers of Bergman's legacy that I can't wait to meet again. But then again, it's definitely a place that invites to dream, and I'd like to stay there again, to come across ghosts, to get lost there… and maybe to write there again. Probably not to write a sequel, but something different, why not?