We are proud to open Ira Deutchman's excellent new movie about the American art film exhibition business, Searching for Mr.Rugoff, on Friday, August 13 at the Monica Film Center. In The New Yorker, Anthony Lane wrote, "Searching for Mr.Rugoff is an entertaining and instructive jaunt, and it bristles with small shocks." In Owen Gleiberman's Variety review, he described it as "an enthralling documentary that movie buffs everywhere will want to see…as essential as any chapter of Easy Riders, Raging Bulls. Ira wrote the following for us:
Searching for Mr. Rugoff, the documentary film that I made and that is opening around the country in August, is the story of a colorful and difficult person who personified the kind of characters who helped to create the art film business as we know it today. In focusing on this particular person, I in no way meant to imply that he was alone in these pursuits. In fact, the project originated as what I thought was going to be an oral history of the art film business as it matured in the 1960's and 70's. I ended up focusing on Rugoff because, as a former employee, it was a story that I thought I could tell, but I also interviewed a number of other key figures from that period including Dan Talbot, Meyer Ackerman, Randy Finley and Bob Laemmle.
The thing these folks all had in common was a love of movies and a keen awareness of the tastes and appetites of their own audiences. The business at that time was very much a local enterprise. The success of a particular cinema was a function of location, carving out a specific identity and having the creative energy to make people aware of what was playing. While the distributors would provide a menu of films and the materials to market them, it was up to the local exhibitors to engage directly with the audience. The best exhibitors were the ones who were the most creative in that endeavor. We refer to this now as "old fashioned showmanship," but it was hardly old-fashioned at the time. It was a critical part of the business. This was even true for major studio films.
This all changed in 1975, when Jaws was released nationally and became a phenomenon. Distributors realized that a wide release, supported by national advertising, was more efficient and had more blockbuster potential than the slower local rollouts that had been the norm up until then. This effectively shifted the marketing responsibility from exhibitors to distributors and is the way most films are generally released to this day.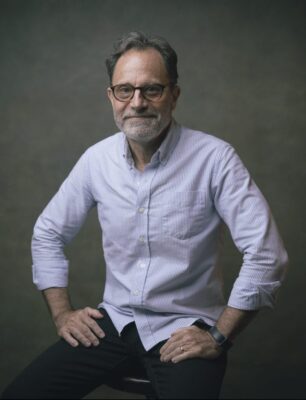 The exceptions to this were and are the art houses, who never lost their energy or ability to market directly to a local audiences. Those of you who are patrons of Laemmle Theaters can see this firsthand, even if you were not aware of how rare this has become. The fact that you reading this right now is an indication that you have a direct relationship with the folks who are running these theaters. This doesn't happen by accident.
My film is meant to be a tribute not only to one particular person, but all those who are fighting to keep theatrical cinema alive in the face of many obstacles and much negativity. That's why I've made it available to the art houses as a benefit for their post-pandemic reopening. One hundred percent of your ticket dollars will go directly to support Laemmle Theaters. So come on out and lend your support and I hope you'll find the film to be an inspirational and fun experience.