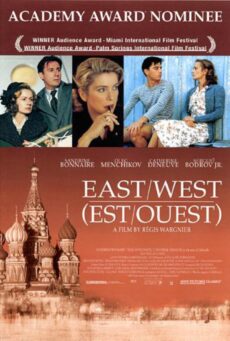 Laemmle Theatres and the Anniversary Classics Series present this month's film in our popular Anniversary Classics Abroad program: Regis Wargnier's compelling and increasingly timely thriller, East/West. Wargnier had won the Academy Award for Best Foreign Language Film for his earlier historical epic, Indochine. The Oscar-nominated star of that movie, Catherine Deneuve, collaborated with him again in another fascinating historical drama with an exotic backdrop.
Inspired by true events, East/West tells a story of Russian émigrés living in Paris who were lured back to the Soviet Union after the end of World War II. Russian dictator Josef Stalin promised these refugees a complete pardon if they returned to their homeland. But when they actually returned, many of these refugees were executed or sent to labor camps or forced to live in squalor. The main characters in the story are a doctor (Oleg Menchikov) with a French wife (Sandrine Bonnaire). Deneuve has a vivid supporting role as a visiting French actress who ultimately plays a key role in helping the married couple.
At a time of increasing oppressiveness under the Putin regime in Russia, this reminder of harsh living conditions under the rule of an earlier dictator takes on renewed relevance. Wargnier wrote the screenplay for East/West with Louis Gardel and two Russian writers, Rustam Ibragimbekov and Sergei Bodrov. Bonnaire, the star of earlier French films Vagabond, La Ceremonie, and Monsieur Hire, confirmed her enormous appeal in this picture. Oscar-nominated composer Patrick Doyle (A Little Princess, Sense and Sensibility, Gosford Park), who had worked with Wargnier on Indochine, again contributed a vibrant score.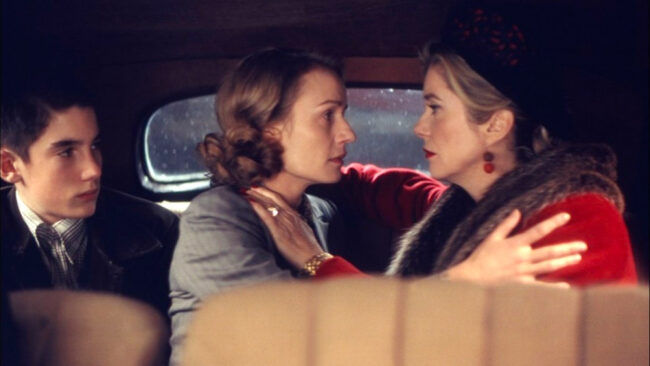 The Los Angeles Times' Kevin Thomas declared, "East/West has the scale and rich period atmosphere of Indochine while gradually evolving into an acutely suspenseful thriller." Writing in Movieline magazine, Stephen Farber paid tribute to the director: "Regis Wargnier has a gift for making sweeping popular entertainment," and he added, "Sandrine Bonnaire gives a marvelously expressive performance." The New York Times' A.O. Scott called East/West a "sumptuous, moving new film," and Rene Rodriguez of the Miami Herald hailed it as "a suspenseful and hugely engrossing drama."
Our 20th anniversary presentation of EAST/WEST screens Wednesday, March 18, at 7pm in Glendale, Pasadena, and West L.A. Click here for tickets.
Format: DVD