Laemmle Theatres and the Anniversary Classics Series present the latest offering in their monthly Abroad program with 25th anniversary screenings of the American release (and Oscar winner) of the delightful Spanish comedy BELLE EPOQUE. The Academy Award winner for foreign-language film will play at three Laemmle locations: West Los Angeles, Glendale, and Pasadena on September 18.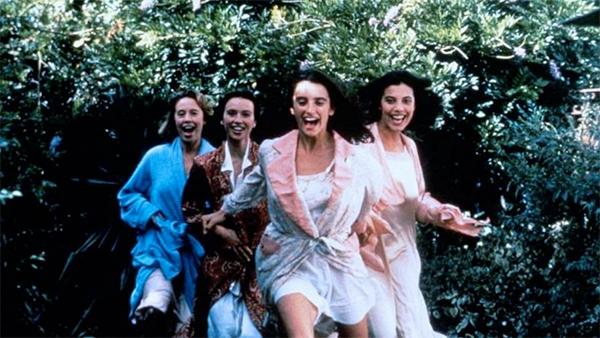 Starring Penelope Cruz (Oscar winner for Vicky Christina Barcelona) in only her second film, the period pastorale is set in 1931 with the beginning of the disruptive Spanish Civil War, chronicling the amorous adventures of a young Army deserter, Fernando (Jorge Sanz), who seeks refuge in the country house of a reclusive old anarchist painter, Manolo (Fernando Fernan Gomez). After finding employment as the household cook, Sanz also finds his carnal appetites stimulated by Gomez' four daughters, played by Maribel Verdu, Ariadna Gil, Miriam Diaz-Aroca, and Cruz. As the youngest of the siblings, Cruz impatiently awaits her turn as the amorous partner of Sanz. As the sexual games seemingly reach a climax, the return of the opera singer family matriarch from a world tour with her manager-lover brings the plot to a boil.
Writer-director Fernando Trueba (co-scripting with Rafael Azcona and Jose Luis Garcia Sanchez) concocts the right recipe of food and sex, with a soupçon of political commentary, and the result charmed the Academy, audiences, and critics of the day.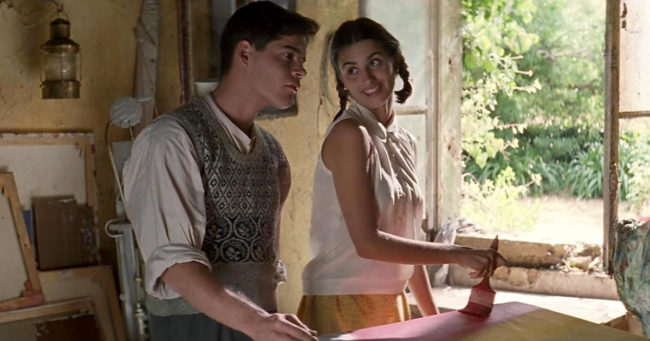 Roger Ebert noted how the film celebrated sensuality and the human body: "Here is a film so inviting you would love to sit in the sun with old Manolo and his friend the priest and talk about the great matters of life."
Leonard Maltin found the film a "delightfully earthy, cheery comedy."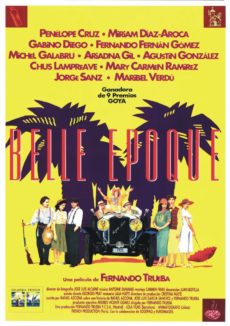 The Washington Post enjoyed the "sun-soaked lyricism" and found the performances ingratiating, extolling the film as a "recipe for sensual self-expression."
Upon receiving the Oscar, Trueba paid tribute to his inspiration in his acceptance speech, "I would like to believe in God in order to thank him, but I just believe in Billy Wilder, so …thank you, Mr. Wilder."
Our 25th anniversary presentation of BELLE EPOQUE screens on Wednesday, September 18th at 7pm in Glendale, Pasadena, and West LA. Click here for tickets.
Format: DCP